Trump weighs pulling security clearance of former top intelligence officials who have been critical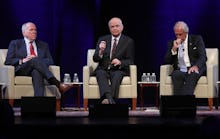 President Donald Trump is looking into whether he can pull the security clearance of former top intelligence officials who served under former President Barack Obama, all of whom have been critical of Trump.
White House press secretary Sarah Huckabee Sanders announced at Monday's news conference that Trump is looking into revoking the clearance of former CIA Directors John Brennan and Michael Hayden, former Director of National Intelligence James Clapper, former FBI Director James Comey, former Deputy FBI Director Andrew McCabe and former Obama national security adviser Susan Rice.
"The president doesn't like the fact that people are politicizing agencies and departments," Sanders said Monday at the White House daily news briefing.
All of those officials have criticized Trump to varying degrees.
Brennan called Trump's news conference with Russian President Vladimir Putin "treasonous." Hayden said on CNN that Putin is able to manipulate Trump through Trump's ego. Clapper has questioned in an interview with CNN whether Putin has compromising information on Trump. Rice called Trump's meeting with Putin a "historic mistake." Comey called on Americans to "stand up and reject the behavior of this president." And Trump has attacked McCabe for months over McCabe's wife's state legislative bid in Virginia.
Revoking former intelligence officials' security clearances because they have been critical of Trump would likely lead to more condemnation of Trump's behavior.
Those former intelligence officials maintain top-level security clearances in case they need to be consulted on issues they oversaw when they served in government, MSNBC's Andrea Mitchell reported.
For example, Obama didn't revoke the security clearance of disgraced ex-national security adviser Michael Flynn — who has since pleaded guilty to lying to the FBI — when Flynn campaigned for Trump throughout the 2016 election.
And one of the individuals — Hayden — told Vox's Alex Ward that revoking his security clearance won't stop him from speaking out.