How Fat Girls Dance is dismantling stigmas toward fat bodies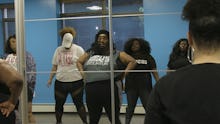 Fat Girls Dance is a global group of fat women who are challenging people's perceptions of what they can do through dance.
The group started after a simple challenge: In August 2016, co-founder Cathleen Meredith asked plus-size women in her community to learn one choreographed dance per week and to post it on the internet. Her request went viral, and she unintentionally created a community of women who empower each other and dismantle stigmas about what fat bodies can do. A year later, Fat Girls Dance has completed 52 dances and sparked hundreds of women to submit their own videos.
But Meredith's work is far from over. She continues to empower big women in her community and beyond by holding events like Fat Girls Fridays — a monthly dance and self-love gathering in New York City where body-positive influencers, dancers and newcomers discuss body positivity and learn new dances.
If you'd like to learn more about the group's activities or you feel inspired to post a video of yourself dancing, visit out the Fat Girls Dance Facebook page.
Check out this segment in episode 3 of Mic Dispatch — only on Facebook Watch.
To catch future episodes of Mic Dispatch, follow Mic Dispatch on Facebook Watch. For more stories about the show, visit the Mic Dispatch collections page.