Hype Daily: Ariana Grande's and Pete Davidson's Instagrams, a James Gunn update and more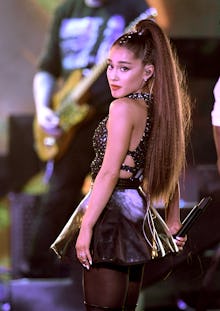 Welcome to Hype Daily, Mic's morning entertainment roundup. Here's everything you need to catch up on in the entertainment world and what to look forward to today. Want to receive this as a daily email in your inbox? Subscribe here.
Good morning from Hype reporter Anna Swartz.
Something weird happened on Pete Davidson and Ariana Grande's Instagrams
Saturday Night Live's Pete Davidson and singer Ariana Grande — you know, the lovebirds who recently got engaged after an extremely brief but apparently passionate courtship — both messed with their Instagram accounts Monday, fueling speculation there might be trouble in paradise. Davidson erased all of his past posts, and Grande disabled comments on her account. But late Monday, Davidson posted an explanation on Instagram Stories — helpfully screenshot by People — that assured everyone "nothing's wrong."
"No nothing happened. No there's nothing cryptic about anything. I just don't wanna be on Instagram anymore. Or on any social media platform," Davidson wrote. "The internet is an evil place and it doesn't make me feel good. Why should I spend any time on negative energy when my real life is fucking lit. The fact that I even have to say this proves my point. I love you all and I'm sure I'll be back at some point. your neighborhood goon, Pete."
A petition to rehire James Gunn has more than 250,000 supporters
A Change.org petition calling on Disney to rehire Guardians of the Galaxy director James Gunn has garnered more than 250,000 signatures. Disney announced it fired Gunn Friday in connection with jokes he made on Twitter nearly a decade ago. The jokes seemed to make light of topics like pedophilia and rape. Gunn's old tweets were brought back under scrutiny in part by conservative provocateur and conspiracy theorist Mike Cernovich.
The creator of the petition to rehire Gunn wrote in the description of the campaign, "I agree with most, including Gunn himself that the jokes were shitty and un-funny but they were still jokes, it wasn't an opinion or a statement, it was just a bad attempt at being funny."
The Made in America festival isn't moving after all
Last week, I told you about how Jay-Z and the mayor of Philadelphia clashed over the city's plans to evict the Made in America festival from its spot downtown. After news broke that Philly Mayor Jim Kenney planned to oust the music festival, Jay-Z penned an op-ed for the Philadelphia Inquirer criticizing the decision. Well, it looks like Jay's op-ed did the trick, because Kenney changed his tune Monday and announced the festival wouldn't have to move after all.
"We think it's a very important event for the city," Kenney told reporters at City Hall, according to a report from the Associated Press. "We think it's important for our profile, for our tourism and we want to make it work."
Robert De Niro might be in the Joker's standalone movie
Today in things you probably didn't ask for, Robert De Niro might have a role in the planned DC film about the Joker, which is set to star Joaquin Phoenix as the comic book villain, the Hollywood Reporter reported Monday. The film is rumored to be a dark "character exploration" set in Gotham City (as opposed to a big-budget superhero flick), and it's not yet clear whether Batman will even make an appearance. De Niro is apparently in talks to play a talk show host. Fun!
Put this on your radar: Castle Rock
The new Stephen King-inspired miniseries Castle Rock premieres on Hulu July 25, and it's already getting pretty good advanced buzz. The first season stars Sissy Spacek and Bill Skarsgard — who have both been in film adaptations of King's books — as two residents of Castle Rock, Maine, a fictional town of King's creation.
Some of the spooky goings-on include references to The Shawshank Redemption, The Shining and Cujo, according to a review from Rolling Stone critic Alan Sepinwall — who said the series hits its stride when "the King allusions turn into treats for those who recognize them rather than distracting reminders of classics this newcomer can't hope to live up to." If you love creepy New England towns and supernatural forces, this one might be for you.