Today in Trump's America: GOP congressman calls Ocasio-Cortez "this girl ... or whatever she is"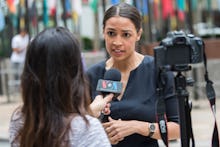 Welcome to Mic's daily read on Donald Trump's America. Want to receive this as a daily email in your inbox? Subscribe here.
Good morning from Emily Singer at Mic.
Check out Mic Dispatch, Mic's new show reporting on the problem-solvers and provocateurs in our changing world. Subscribe here for alerts on new episodes airing Tuesdays and Thursdays, 8 p.m. Eastern, on Facebook Watch.
Here's what's happening in Trump's America:
• Trump travels to Kansas City, Missouri, for the day. All times listed below are Eastern.
About last night: Manafort trial delayed
One of the two trials former Trump campaign chairman Paul Manafort faces was pushed back Monday after a judge granted Manafort and his attorneys more time to review evidence in the trial, CNN reported. Instead of starting Wednesday, the trial will now begin July 31.
U.S. District Judge T.S. Ellis also ruled Manafort's attorneys cannot ask potential jurors whether they voted in the 2016 presidential election.
"Of course people can be fair and impartial no matter who they voted for," Ellis said at a hearing, according to CNN.
And it appears Trump won't play that big of a role in the trial. Prosecutors said at Monday's hearing they will not bring up potential collusion between the Trump campaign and Russia. Ellis also said he will allow prosecutors to bring up Manafort's job on the Trump campaign only in the context of a banker who wanted a job on Trump's campaign in exchange for giving loans to Manafort, according to CNN.
Today in Trump's America: Georgia holds runoffs in a handful of contests
It's another primary election day with voters in a handful of Georgia contests heading to the polls for primary runoffs.
The biggest race is on the Republican side of the gubernatorial contest, where Lt. Gov. Casey Cagle and Secretary of State Brian Kemp face off for the chance to take on Democrat Stacey Abrams in November.
Trump upended that primary when he unexpectedly endorsed Kemp via tweet less than a week before the runoff. A Georgia Republican strategist told Mic Kemp was already surging before Trump's endorsement, and it could help Kemp build on that momentum.
Kemp is running squarely on Trump's culture war, running ads about how he can round up undocumented immigrants in his flatbed pickup truck (questionable how that would work) and the fact he "say[s] Merry Christmas and God bless you" and stands for the national anthem.
The gubernatorial contest is rated a Likely Republican contest by Roll Call/Inside Elections.
In the 6th District — which Democrat Jon Ossoff just barely lost in a special election last year — two Democrats are vying for the nomination to oust freshman GOP Rep. Karen Handel. Lucy McBath, a businesswoman and gun control activist whose son, Jordan Davis, was shot and killed in 2012, is facing off with fellow Democrat Kevin Abel.
Abel, who is white, has been dogged in recent days by comments he made during a debate in which he said he better reflects the "demography and the makeup of [his] district" than McBath, who is black.
The gun control group Everytown for Gun Safety has spent more than $1 million in ads backing McBath's bid, according to NBC News.
The November general election in the 6th District is rated a Likely Republican contest by Roll Call/Inside Elections.
Capitol Hill happenings: Who's that girl?
Rep. Ron DeSantis, a Republican from Florida, referred to Alexandria Ocasio-Cortez — the 28-year-old Democrat who defeated Rep. Joe Crowley (D-N.Y.) in a primary last month — as "this girl Ocasio-Cortez or whatever she is."
DeSantis, who is running for governor in the Sunshine State with Trump's endorsement, made the disparaging remark during an event in Orange Park, Florida.
New York Democratic Rep. Nydia Velazquez came to Ocasio-Cortez's defense.
"She isn't a girl, she's a woman and soon she will be a Congresswoman," Velazquez tweeted at DeSantis. "You should apologize not just to her, but to all the women in Florida your comments have offended."
Mic sat down with Ocasio-Cortez as well as New York Democratic gubernatorial hopeful Cynthia Nixon for an interview last week, which you can watch here.
And the rest…
Security clearances: Trump is looking into pulling the security clearance of six top intelligence officials who served under former President Barack Obama, White House press secretary Sarah Huckabee Sanders announced Monday. Sanders said Trump was looking into removing their clearances because they made "baseless accusations" that Trump had "improper contact with Russia," which she called "extremely inappropriate." Remember Trump made baseless accusations that Obama was not a U.S. citizen, which he begrudgingly renounced toward the end of the 2016 election.
Mueller interview: Trump's legal team offered to sit down with special counsel Robert Mueller's investigative team, but only if the questions relate to collusion and not obstruction of justice, Bloomberg News reported. Something tells us that's not going to fly.