Democrats are calling McConnell's bluff on the Kavanaugh vote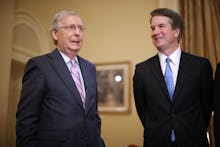 Senate Majority Leader Mitch McConnell issued a warning to Democrats who are seeking documents related to Supreme Court nominee Brett Kavanaugh, saying he is prepared to hold a vote right before the November midterm elections to inflict political pain should Democratic lawmakers drag out the confirmation process, according to Politico.
McConnell and Senate Judiciary Chairman Chuck Grassley of Iowa can schedule the confirmation hearings and vote at any time, but Democrats have asked for more time to look into Kavanaugh's extensive record that includes more than a million documents. Now, McConnell is saying that if they want more time, they'll have to deal with a confirmation vote being held right before midterm elections.
Yet Democrats are calling McConnell's bluff, daring him to schedule the vote for late October and sticking to their demand that they get time to review Kavanaugh's record before any confirmation proceedings are scheduled.
"Sen. McConnell does everything with politics in mind, so if he thought that a vote in late October was good for him politically, he would just do it," a senior Senate Democratic aide told Mic. "So I don't buy it."
The aide, who was granted anonymity to speak candidly, added that Democrats think the Supreme Court battle will be just as motivating for their base, as Democrats will hinge Kavanaugh's confirmation on the possibility that Roe v. Wade gets overturned.
An NBC News/Wall Street Journal poll released on Monday shows that 71% of voters think the landmark abortion decision should be upheld. That's the highest level of support for the law since pollsters for the NBC News/Wall Street Journal poll began asking the question in 2005.
"There's a whole generation of women who have never lived in this country without Roe, and that's legitimately at risk," the aide said. "And Republicans risk a massive blowback doing it this close to the election in terms of motivating our base. I think [the Supreme Court seat] will be a motivator for us in a way that it hasn't been in the past."
At the moment, a handful of GOP Senators are on the fence about whether they'd vote for Kavanaugh — including Sens. Susan Collins of Maine, Lisa Murkowski of Alaska and Rand Paul of Kentucky.
Given the Senate's partisan breakdown and the potential absence of Sen. John McCain (R-Ariz.), who's been gone since December because he has brain cancer, one defection could sink Kavanaugh's bid.
The longer the public has to sift through Kavanaugh's record, the riskier it is for Republicans, who can't afford to lose support.
"It's a real risk for them to wait that long," the Senate aide told Mic. "I mean, what happens if something comes out and the judge didn't get confirmed and then they have to start from scratch in November without a majority?"
McConnell privately warned Trump before Trump nominated the replacement for retiring Justice Anthony Kennedy that Kavanaugh's paper trail could make him hard to confirm.
And Democrats have no qualms about demanding to see all of Kavanaugh's records before proceeding, given that Republicans demanded the same of now-Supreme Court Justice Elena Kagan, when former President Barack Obama nominated her in 2010.
"@SenateGOP demanded the entire paper history of then-Solicitor General Kagan before moving fwd on her nomination & Dems agreed!" Senate Minority Leader Chuck Schumer tweeted on Monday.
"@SenateGOP can see, it didn't take much work to make it directly applicable for today," Schumer continued, posting a letter in which Republicans demanded Kagan's paper trail, with Kavanaugh's name swapped in for Kagan's. "Why should such a standard apply to Justice Kagan, but not to Judge Kavanaugh?"