Adult Swim declines to fire 'Rick and Morty' creator after an old, offensive video sketch surfaces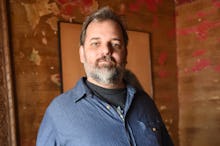 Just days after Disney fired Guardians of the Galaxy director James Gunn for a series of offensive jokes he posted on Twitter several years ago, Adult Swim has declined to follow suit despite finding itself in a similar situation.
In 2009, Rick and Morty co-creator Dan Harmon posted a video he said was meant to be a parody of the show Dexter in which he climbs through a window, pulls down his pants and rubs his genitals against a baby doll. Harmon said he deleted the video soon after posting it, saying in a statement to Polygon that it was "way too distasteful," but recordings of it have survived. And now, right-wing internet communities are using the footage as ammo in an attempt to get Harmon fired.
The clip recently resurfaced on 4chan and the subreddit /r/The_Donald, according to Polygon. It appears these conservative groups were motivated by the firing of Gunn and hoped to convince Adult Swim to fire Harmon — a vocal critic of President Donald Trump. Rather than cave to pressure, Adult Swim said while it recognized Harmon's 2009 video is offensive, it also acknowledged Harmon had apologized for it and understood his mistake years ago.
"At Adult Swim, we seek out and encourage creative freedom and look to push the envelope in many ways, particularly around comedy," a representative for Adult Swim said, according to Polygon. "The offensive content of Dan's 2009 video that recently surfaced demonstrates poor judgment and does not reflect the type of content we seek out. Dan recognized his mistake at the time and has apologized. He understands there is no place for this type of content here at Adult Swim."
One person who has been circulating the footage of Harmon's old sketch is Mike Cernovich, who also circulated the Pizzagate conspiracy theory. Cernovich was one of the key figures in calling on Disney to fire Gunn, saying the jokes Gunn posted on his Twitter indicated he "advocated for and seemingly admitted to being a pedophile." Cernovich and others who have been calling for Harmon's firing have been doing so seemingly as a form of retribution for conservative personalities — like Roseanne Barr and Papa John's founder John Schnatter — losing their jobs for using racist hate speech.
Cernovich recently retweeted a post by Roseanne Barr, whose rebooted ABC sitcom was cancelled after she tweeted a racist insult about Valerie Jarrett, an adviser to former President Barack Obama.
"I'm disgusted to read all of the support for James Gunn's pedophile jokes — as the same people supported blacklisting me for a joke they didn't even understand," Barr tweeted.
Amid the conservative backlash, Harmon deleted his Twitter account.
"In 2009, I made a 'pilot' which strove to parody the series Dexter and only succeeded in offending," Harmon said in a statement, per Polygon. "I quickly realized the content was way too distasteful and took the video down immediately. Nobody should ever have to see what you saw and for that, I sincerely apologize."