'Mic Dispatch' episode 3: Alexandria Ocasio-Cortez and Cynthia Nixon; Fat Girls Dance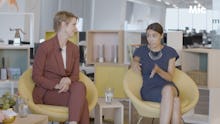 On the latest edition of Mic Dispatch, we sit down with Alexandria Ocasio-Cortez, a 28 year-old Bronx native who recently won the Democratic nomination for Congress from New York's 14th Congressional District, and former Sex and the City star and current New York gubernatorial candidate Cynthia Nixon.
Ocasio-Cortez and Nixon are part of a surge of first-time female candidates running for political office. They're both campaigning as Democratic Socialists, hoping to push the Democratic Party to the left.
Next, correspondent Chantel Simpson talks with members of Fat Girls Dance — a community of plus-size women who are challenging the public's perceptions of what plus-size women are capable of.
The group started after a simple challenge: In August 2016, co-founder Cathleen Meredith asked plus-size women in her community to learn one choreographed dance per week and post it on the internet. Her request went viral, and she unintentionally created a community of women who now empower each other through dance while dismantling fatphobic stigmas. A year later, Fat Girls Dance has completed 52 dances and counting, and motivated dozens of women to submit their own videos.
Check out episode three of Mic Dispatch — only on Facebook Watch.
To catch future episodes of Mic Dispatch, follow Mic Dispatch on Facebook Watch. For more stories about the show, visit the Mic Dispatch collections page.