Ivanka Trump is shutting down her fashion label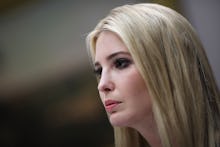 Ivanka Trump's fashion brand is no more, according to the Wall Street Journal. The 18 employees of the brand were reportedly informed of her decision to close the company Tuesday morning.
"After 17 months in Washington, I do not know when or if I will ever return to the business, but I do know that my focus for the foreseeable future will be the work I am doing here in Washington," Trump said, according to the WSJ. "So making this decision now is the only fair outcome for my team and partners."
She serves as a senior adviser to her father, President Donald Trump.
Ivanka Trump's main political agenda has revolved around her Women Who Work campaign, an effort to empower working women. She has used the slogan as the title of her self-help book, as well as the name for a line of clothing for her now-shuttered company.
Trump's fashion label had long faced criticism that she was using her status as the president's daughter to increase sales. She was often seen as a "walking billboard" for her own fashion line, wearing her own company's dresses to high-profile events and — whether purposely or not — linking her father's political stances to the brand itself.
By February 2017, companies like Nordstrom, Jet, HSN and Neiman Marcus stopped selling certain collections of Trump's merchandise. Some retailers, like Nordstrom, cited low sales as the reason it was no longer carrying the brand, but the Trump administration alleged Nordstrom's decision was politically motivated.
In an effort to shield herself from explicit conflicts of interest, she placed a number of restrictions on the brand, separating herself from the company's day-to-day management while still retaining ownership of the company overall. WSJ said she "grew frustrated" by these restrictions, which limited the company's growth.