#MuteRKelly creator says R Kelly's "I Admit" is a "19-minute sex trafficking fundraising anthem"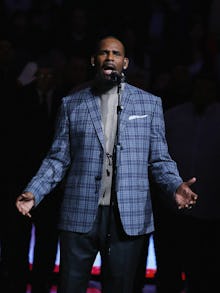 #MuteRKelly co-founder Oronike Odeleye says R. Kelly's "I Admit," a 19-minute track he released Monday in response to sexual assault allegations and a growing movement to end his career, is nothing more than a plea to his fan base to keep supporting him.
Since launching in July 2017, the #MuteRKelly movement has called for fans to boycott R. Kelly financially. Organizers insist his economic power and fame protect him from facing consequences for his actions.
"We're calling it a 19-minute sex trafficking fundraising anthem," Odeleye said in a phone interview Tuesday. "This is all shock value and a plea to 'please buy my concert tickets.' And we are steadily working to get all of his concerts canceled."
Several women have accused Kelly of sexual misconduct in the past two decades, allegations which have led anti-trafficking experts to say that his behaviors mirror sex trafficking behavior. On May 22, Faith Rodgers, 20, told CBS News that Kelly infected her with herpes in 2017. She is suing him for not disclosing his sexually-transmitted disease and for sexual battery.
In July 2017, Jim DeRogatis, a veteran reporter who has followed the sexual allegations against Kelly since 2000, reported claims from parents of some of the women who say the R&B singer promised their daughters mentoring, but instead was holding them against their will in a sex cult. Two more women's stories were brought to light in a May 4 BuzzFeed report: Lizzette Martinez, who said she had a relationship with Kelly in 1995 when she was 17 and Michelle, who alleges her daughter is part of a sex cult Kelly is running.
On Kelly's latest long-winded effort, he admits to personal flaws and battles: from being illiterate, to having sex with a friend's girlfriend, being molested as a child and having signed away the rights to his music. His bemoaning doesn't extend to multiple accusations against him and the #MuteRKelly campaign. When he references these specific issues, he deflects and denies.
"Yeah, go ahead and stone me, point your finger at me (stone me, yeah, yeah)/ Turn the world against me, but only God can mute me (against me, mute me)," he seems to snipe at #MuteRKelly on verse five.
"You may have your opinions, entitled to your opinions (opinions, opinions)/ But really am I supposed to go to jail or lose my career because of your opinion," he continues.
Later in the verse, Kelly sings that during a conversation with TV personality Wendy Williams, she asked him to explain two allegations: a marriage to singer Aaliyah when she was 14 and a tape of him having sex with a 14-year-old girl.
"She said, "What about Aaliyah?"/ I said "love"," he sings. "She said, "What about the tape?"/ I said "hush"/ I said my lawyer said "don't say noth'"/But I can tell you I've been set up (up)."
Odeleye says although the song is called "I Admit" his lyrics aren't admitting anything.
"This is throwing [his fans] a bone," she said. "Like, 'Oh I'm quasi-repentant. I'm a flawed man. Keep supporting me.' That we should forgive him and move on. But he hasn't repented for anything. He has not been held accountable for anything. You have to fess up to the things that you have done...[to] your victims, and ask them for forgiveness."
On the song, Kelly also sent a message to the parents of the women who have accused him of sexual assault and implied they were playing the victim.
"Don't push your daughter in my face, and tell me that it's okay (my face, okay)/ 'Cause your agenda is to get paid, and get mad when it don't go your way (yeah, go way)," he retorts.
The BuzzFeed report about Kelly's alleged sex cult is what sparked the #MuteRKelly movement, led by Odeleye and Kenyette Barnes. Since then, it has grown nationally with the support of grassroots organizers in cities such as Detroit, New York City and Chicago.
This year, the movement's efforts led to Spotify, Pandora and Apple Music ending any promotion of Kelly's music on the streaming platforms. At least two Kelly concerts, in Memphis and Chicago, were canceled. It is unclear whether the shows were canceled directly because of the movement.
Organizers are currently calling for the cancellation of Kelly's Aug. 17 show at the Family Arena in St. Charles, Missouri, and they are following up with an on-the-ground protest. They are continuing to ask supporters to sign the petition asking RCA and Sony to drop him from the label.
Ultimately by putting out "I Admit," Odeleye said Kelly is helping, not hurting their movement.
"I think this is fuel to our fire, so the more he responds, we know eventually he's going to put his foot in his mouth," she said. "This will be a year and a month since we started this campaign and so we're just going to keep pushing."