What you need to know about Tuesday's race in Georgia's 6th district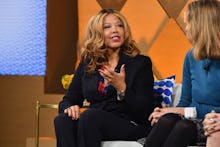 On Tuesday, Georgia's sixth Congressional district is holding its fourth congressional race in just two years.
Lucy McBath, a gun control activist and the mother of slain black teenager Jordan Davis, is facing off against conservative Democrat Kevin Abel in a runoff election to unseat incumbent Republican Rep. Karen Handel.
Handel won the seat in 2017 in a special election against Democrat Jon Ossoff That race sparked national debate about Democrat's strategy for winning the House in the Trump era, and whether candidates should focus their campaigns on Trump or on a progressive vision for the future.
Tuesday's runoff results will undoubtably be interpreted as yet another sign of the direction the Democratic party is taking in the lead-up to the November midterm elections. Here's what you need to know.
How we got here: Ossoff vs. Handel
In 2017, Rep. Tom Price was tapped as President Donald Trump's pick to be the Secretary of Health and Human services. That meant voters in Georgia's 6th district would have to choose his replacement in a special election. Just a few months prior, Hillary Clinton lost the district to Donald Trump by a razor-thin margin of one percentage point, leaving Democrats hopeful that they could pick up the seat.
Democrats rallied behind Jon Ossoff, a 30-year-old fresh face who ran a moderate campaign that matched the suburban district's moderate-to-conservative leanings. Republicans chose Karen Handel, a conservative firebrand and perennial Georgia candidate that Democrats felt they had a shot at beating.
Money poured into the race on both sides, making it the most expensive congressional race in U.S. history.
On June 20, 2017, Ossoff lost to Handel by around 4 percentage points — leading some progressives to believe that Ossoff's strategy of running a more moderate anti-Trump campaign, instead of one based on positive progressive values, helped seal his fate.
A tale of two less-radical visions
In Georgia's May 22 primary, Democrats largely supported progressive gun control activist and "mother of the movement" Lucy McBath to face Handel in this year's general election.
McBath earned national fame after her teenage son, Jordan Davis, was shot and killed by an older white man at a Florida gas station. McBath's campaign focused more on a positive progressive vision than Ossoff's, touting her support for expanding health care access and increasing gun control.
McBath's policies are still notably more moderate than those of progressives like Alexandria Ocasio-Cortez, who is running on a more ambitious progressive agenda to create a Medicare for All single-payer health-care system and abolish Immigration and Customs Enforcement.
On election night, McBath failed to walk away with more than 50% of the primary vote, forcing her into a runoff with second place finisher Kevin Abel, a businessman and an immigrant from South Africa. He ran as a more conservative Democrat, openly supported the Trump administration's controversial decision to move the U.S. embassy in Israel to Jerusalem and has decried the acrimony between the two parties in Washington.
The race will be a test of Georgia's changing demographics
Abel ran into some controversy at a debate in July when he — a white man running against a black women — said that he was the best candidate "to represent the demography and makeup of this district." That comment drew criticism for its racial overtones, but also highlighted a key element of the changing face of Georgia's Democratic representation.
In May, Stacy Abrams won the Democratic Gubernatorial primary, becoming the first black woman to be a major party candidate for governor in Georgia.
Over the past few years, Democrats have speculated that the increasingly diverse demographics of Georgia could swing the state in their favor. Many hope that by having a black woman at the top of the ticket, they can help drive turnout among black voters looking for change in the state.
Black voters make up 13% of Georgia's 6th district, which covers a mix of the suburban area around Atlanta and more rural parts of the state.
McBath's race will be yet another test to see if having a black woman at the top of the ticket helps turnout minority voters, particularly black women who have a history of carrying candidates to victory.