Republicans pan Trump's $12 billion tariff relief for farmers as corporate welfare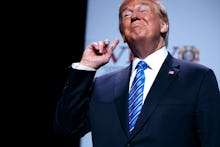 Republican senators have come out against the Trump administration's latest plan to offer $12 billion worth of emergency relief to farmers being hurt by President Donald Trump's tariffs. On Tuesday, many spoke out to pan the bailouts as corporate welfare — but there appears to be no movement on Republicans' part to roll back the tariffs.
"This trade war is cutting the legs out from under farmers and White House's 'plan' is to spend $12 billion on gold crutches," Sen. Ben Sasse (R-Neb.) said in a statement Tuesday. "America's farmers don't want to be paid to lose — they want to win by feeding the world. This administration's tariffs and bailouts aren't going to make America great again, they're just going to make it 1929 again."
The Trump administration's plan is a direct acknowledgement that Trump's trade war is hurting U.S. businesses. In fact, one Republican senator compared the bailout plan to socialist policies — an attack the GOP usually levies on Democrats.
Trump's trade policy "is becoming more and more like a Soviet-type of economy here," Sen. Ron Johnson (R-Wis.) told reporters on Capitol Hill.
A number of other Republicans have also criticized Trump for both the tariffs and the ensuing bailout.
Sen. Rand Paul (R-Ky.) called the tariffs "taxes that punish American consumers and producers."
"If tariffs punish farmers, the answer is not welfare for farmers — the answer is remove the tariffs," Paul tweeted.
Sen. John Thune (R-S.D.), a member of GOP Senate leadership, told Politico "there isn't anything about this [policy] that anybody should like." And Sen. Bob Corker (R-Tenn.), who has written legislation to remove some of Trump's unilateral power to impose tariffs, said the administration created a problem it is now having to throw money at to fix.
"These tariffs are a massive tax increase on American consumers and businesses, and instead of offering welfare to farmers to solve a problem they themselves created, the administration should reverse course and end this incoherent policy," Corker said in a statement. "We will continue to push for a binding vote here in Congress to reassert our constitutional role on national security-designated tariffs."
Yet for all the harsh words, Politico reported there is little to no movement to stop the tariffs or the bailout to farmers whom the tariffs are hurting.
Trump on Tuesday morning declared the tariffs to be the "greatest," and said during a speech in Missouri this afternoon that Americans should not believe what they see and read about his administration's policies.
"What you are seeing and what you are reading is not what's happening," Trump said.