Mic Daily: Second immigration deadline looms, GOP pans Trump's $12 billion farm relief and more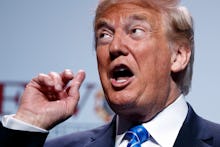 Welcome to Mic Daily: Mic's newsletter that cuts through the noise and lands in your inbox every weekday. We carefully curate each edition to send you a cross section of our most vital stories of the day. Want to receive this as a daily email in your inbox? Subscribe here.
The second court-ordered deadline for the Trump administration to reunite separated immigrant families is on Thursday, but it appears that officials are set to allow it to blow past without ensuring full reunification for hundreds of children with their parents.
Republican senators have come out against the Trump administration's latest plan to offer $12 billion worth of emergency relief to farmers being hurt by President Donald Trump's tariffs. On Tuesday, many spoke out to pan the bailouts as corporate welfare — but there appears to be no movement on Republicans' part to roll back the tariffs.
Just days after Disney fired Guardians of the Galaxy directorJames Gunn for a series of offensive jokes he posted on Twitter several years ago, Adult Swim has declined to follow suit despite finding itself in a similar situation.
Senate Majority Leader Mitch McConnell issued a warning to Democrats who are seeking documents related to Supreme Court nominee Brett Kavanaugh, saying he is prepared to hold a vote right before the November midterm elections to inflict political pain should Democratic lawmakers drag out the confirmation process, according to Politico.
#MuteRKelly co-founder Oronike Odeleye says R. Kelly's "I Admit," a 19-minute track he released Monday in response to sexual assault allegations and a growing movement to end his career, is nothing more than a plea to his fan base to keep supporting him.
Results from a new study presented at the 22nd International AIDS Conference in Amsterdam confirmed something HIV academics have suspected for a long time: The chance of an HIV-positive person with an undetectable viral load transmitting the disease to their partner is "scientifically equivalent to zero."
Check out Mic Dispatch, Mic's new show reporting on the problem-solvers and the provocateurs in our changing world. Subscribe here for alerts on new episodes airing Tuesdays and Thursdays at 8 p.m. Eastern on Facebook Watch.