Hype Daily: The latest on Demi Lovato's health, Karlie Kloss' engagement and more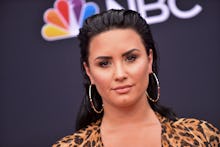 Welcome to Hype Daily, Mic's morning entertainment roundup. Here's everything you need to catch up on in the entertainment world and what to look forward to today. Want to receive this as a daily email in your inbox? Subscribe here.
Good morning from Hype reporter Anna Swartz.
Demi Lovato is still in the hospital but "awake" and with family
On Tuesday, Demi Lovato was hospitalized, after what multiple outlets reported was an apparent drug overdose — but the 25-year-old singer is now awake and stable at Los Angeles' Cedars-Sinai Medical Center, CNN reported on Wednesday.
"Demi is awake and with her family, who want to express thanks to everyone for the love, prayers and support," a representative for Lovato said in a statement to CNN. "Some of the information being reported is incorrect and they respectfully ask for privacy and not speculation as her health and recovery is the most important thing right now." Her representative didn't offer specifics on the reason for her hospitalization.
Lovato has been open about her struggles with addiction and about her mental health. When news broke that she had been hospitalized on Tuesday, other celebs rushed to share messages of support on social media.
Tyra Banks tweeted, "My heavy heart sends healing love to @DDLovato, and I pray she recovers fully and with great health." And Ellen DeGeneres tweeted, "I love @DDLovato so much. It breaks my heart that she is going through this. She is a light in this world, and I am sending my love to her and her family."
We're rooting for you, Demi.
Sam Rockwell, Michelle Williams and Lin-Manuel Miranda are teaming up for a series about Bob Fosse and Gwen Verdon
Lord only knows how Lin-Manuel Miranda has time for any more projects, but on Tuesday, news broke that Miranda is working on a limited series for FX about Broadway legends Bob Fosse and Gwen Verdon. Titled Fosse/Verdon, the eight-episode series will star Sam Rockwell as Fosse and Michelle Williams as Verdon, the Hollywood Reporter reported on Tuesday. Dear Evan Hanson's Steven Levenson will serve as showrunner and Thomas Kail, who worked with Miranda on Hamilton, will also be on board as an executive producer. Break a leg, kids!
Karlie Kloss is engaged to a Kushner
Model Karlie Kloss is engaged to Joshua Kushner — you know, younger brother to presidential son-in-law Jared Kushner? People reported that the pair are now engaged after six years of dating. A "source close to the couple" told People that Kushner "proposed a few weeks ago during a romantic weekend together in upstate New York." Kloss confirmed the news in an Instagram post on Tuesday, captioned "Josh, you're my best friend and my soulmate. I can't wait for forever together. Yes a million times over."
According to People, Kloss has said she voted for Hillary Clinton in the 2016 election. Wonder if she's going to talk politics with her new brother-in-law!
Kate Mulgrew throws her support behind Alexandria Ocasio-Cortez
Speaking of politics, former Star Trek: Voyager actor and current Orange Is the New Black star Kate Mulgrew is down to support progressive Congressional candidate Alexandria Ocasio-Cortez, who is currently running for Congress in New York. After Ocasio-Cortez tweeted a joking Star Trek reference, Mulgrew responded in character, "Captain Kathryn Janeway of the USS Voyager reporting to @Ocasio2018 — I'm very interested in assisting your campaign and taking it to warp speed at RED ALERT!" I guess it's not clear if Ocasio-Cortez has Mulgrew's endorsement or Captain Janeway's.
Put this on your radar: The Bleeding Edge
The new documentary The Bleeding Edge premieres on Netflix on Friday, and if you can handle an unflinching look at the medical device industry, complete with frustrating examples of medical incompetence, this one is for you. The Village Voice critic April Wolfe wrote that documentary director Kirby Dick "exposes so much that I yelled, 'Oh, my God!' multiple times while watching." File this one under docs that will probably teach you a lot but might not make you feel better about the world.