Today in Trump's America: Audio shows Trump wanted to pay cash to silence 'Playboy' model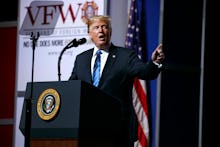 Welcome to Mic's daily read on Donald Trump's America. Want to receive this as a daily email in your inbox? Subscribe here.
Good morning from Emily Singer at Mic.
Check out Mic Dispatch, Mic's new show reporting on the problem-solvers and the provocateurs in our changing world. Subscribe here for alerts on new episodes airing Tuesdays and Thursdays, 8 p.m. Eastern, on Facebook Watch.
Here's what's happening in Trump's America:
• It's a day full of meetings for the president.
About last night: Cohen releases tape showing Trump knew of plan to silence Playboy model
Trump's longtime personal lawyer Michael Cohen on Tuesday night released an audio recording to CNN. It shows Trump explicitly knew about plans to purchase the story from Playboy model Karen McDougal, who said she had an affair with Trump in 2006.
The tape reveals the Trump campaign lied when it denied knowledge about the payment to McDougal, which was first reported by the Wall Street Journal days before the 2016 election.
"We have no knowledge of any of this," former Trump campaign spokeswoman Hope Hicks told the Wall Street Journal at the time.
The tape — which Cohen was able to release after Trump waived privilege on the conversation — reveals Trump knew of a plan to buy McDougal's story from David Pecker, the head of a company that owns the National Enquirer.
"I need to open up a company for the transfer of all of that info regarding our friend David," Cohen says in the recording, likely referencing Pecker.
Then comes a discussion about how this would be paid for, with Trump first suggesting paying with cash to which Cohen replies "no, no."
Cohen's lawyer, Lanny Davis, is highlighting this portion of the conversation, because Trump's new personal lawyer, Rudy Giuliani, told the New York Times the tape was exculpatory because it showed Trump wanted to pay with a check and not cash so it would be documented properly.
After the tape was aired, Giuliani went on Fox News to offer Trump's side of the story, saying the payment was never made and there was nothing illegal being discussed.
"There's no indication of any crime being committed on this tape," Giuliani said on Fox News.
However, campaign finance experts told Mic otherwise back in May. Since an allegation of an affair could have influenced the election, a payment to keep the allegation secret just days before election day could violate campaign finance laws.
Today in Trump's America: Pompeo heads to Capitol Hill
Senators will grill Pompeo Wednesday about Trump's one-on-one meetings with Putin and Kim, hoping to get details about what Trump discussed with the two autocratic leaders who are hostile toward the U.S.
The hearing comes after news trickled out from the meeting that enraged lawmakers, including the fact Trump considered a referendum to determine whether Crimea belonged to Ukraine or Russia and sending a former U.S. ambassador to Russia for questioning. The Trump administration ultimately said those two proposals have officially been ruled out.
It's unclear how much, if any, information Pompeo will disclose at the hearing.
But what is clear is that the hearing will keep the Putin meeting in the news, dragging out a negative news cycle that's dogged the White House for more than a week.
Polling update: Democrats get slew of good polling suggesting a midterm wave
A host of new polling has been released this week showing Democrats are on track to ride a wave in November.
Dogged by his administration's family separation policy and widely panned meeting with Putin, Trump's approval rating fell to 38%, according to a Quinnipiac University Poll released Tuesday, which would make it his worst rating since early March.
The Quinnipiac poll showed Trump's approval fell even among friendly voting blocs. The block made up of whites with no college degree gave Trump just a 49% approval rating. That's down from 57% in a Quinnipiac poll from June 20.
District-level polling also had good news for Democrats.
In Pennsylvania's 17th District — which Trump carried by a 3-point margin — Democratic Rep. Conor Lamb leads GOP Rep. Keith Rothfus among likely voters, 53% to 40%, according to a Monmouth University poll published Tuesday.
Lamb and Rothfus are facing off thanks to the redrawing of Pennsylvania's congressional map. The fact a Democrat is leading a GOP incumbent by 13 points in a seat Trump won in 2016 should give Republicans a major case of heartburn.
Ultimately, the forecasters at the Center for Politics at the University of Virginia now say Democrats are the favorites to take back the House in November, when voters head to the polls for the midterm elections.
And the rest…
Georgia runoff results: It's still a good year to be a Democratic woman on the ballot. Democrat Lucy McBath defeated fellow Democrat Kevin Abel to win the nomination in Georgia's 6th District. On the Republican side, Georgia Secretary of State Brian Kemp easily won the GOP nomination for governor. Kemp was endorsed by Trump.
Corporate welfare: Republicans are blasting the Trump administration's plan to offer $12 billion in emergency relief to farmers hurt by Trump's trade policy. But they appear to have no plans to do anything about it.