Pablo Villavicencio, the pizza deliveryman detained by ICE, freed by federal judge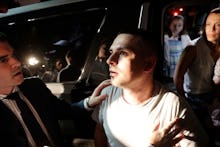 When Pablo Villavicencio walked free after nearly two months in immigration detention on Tuesday night, it was because of a decision by a George W. Bush-appointed judge.
On Tuesday, U.S. District Judge Paul A. Crotty ordered the immediate release of Villavicencio, the 35-year-old Ecuadoran pizza delivery man who was detained by Immigrations and Customs Enforcement on June 1 after making a routine stop at a Brooklyn military base. In his ruling, Crotty also stayed Villavicencio's imminent deportation, and questioned in the strongest possible terms why the government had sought to expedite the removal of someone he referred to as a "model citizen."
"I mean, is there any concept of justice here or are we just doing this because we want to?" Crotty asked the courtroom during the hearing, according to reports. "Why do we want to enforce the order? It makes no difference in terms of the larger issues facing the country."
Despite having a wife and two young daughters who are U.S. citizens, Villavicencio is undocumented. At the time of his detention, he had been in the process of obtaining legal status by way of a "petition for alien relative," which he had submitted in February and is the first step towards pursuing a green card by way of marriage to a citizen.
The government had argued that Villavicencio could continue to pursue that citizenship claim from Ecuador after the deportation proceedings were complete. However, during Tuesday's hearing, Crotty said that because U.S. Citizenship and Immigration Services was already vetting his petition, to deny him the opportunity to see his claim through would violate his Fifth Amendment rights.
"Although he stayed in the United States unlawfully and is currently subject to a final order of removal, he has otherwise been a model citizen," Crotty wrote in the order. "Petitioner married ... a United States citizen. He now has two children, both of whom are United States citizens. He has no criminal history. He has paid his taxes. And he has worked diligently to provide for his family.
"What is the danger to the community for a man who has committed no crime?" he wrote.
The ruling comes after weeks of protest from immigration activists and elected officials alike, who questioned why the government had sought to inflict such a harsh punishment on a man who was no danger to his community.
"He's on a path to citizenship and has a family here," Bay Ridge resident Pete Finnen told the Brooklyn Daily Eagle at a rally on Villavicencio's behalf in June. "As a friend of immigrants, I know how difficult and time-consuming becoming a citizen can be and this kind of punishment is extreme."
At a news conference on Tuesday, Villavicencio's wife, Sandra Chica, said that her husband's detention in Hudson County Correctional Facility in Kearny, New Jersey, had brought the family "significant hardship" and had essentially made her "a single mom in one day."
"It's hard, being with two little girls, to be by myself with all the responsibilities I have now," Chica said, adding that her daughters had been forced to miss birthdays and Father's Day with their dad. "We hope this nightmare is finished tomorrow, and my daughters can be again with their father. We hope the right thing is done tomorrow. Is it really too much for me to ask to keep my family together?"
Video captured shortly after Villavicencio's 9 p.m. release on Tuesday night showed him tearfully reuniting with his family, hugging his wife and clutching his young daughters tightly.