Jason Spencer resigns after pulling his pants down and using racial slurs on 'Who Is America?'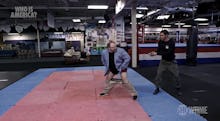 Remember that guy, Georgia state lawmaker Jason Spencer, who spewed racist slurs and charged, buttocks-first, at Sacha Baron Cohen during an episode of Who Is America?
After the episode of Cohen's new political prank show premiered Sunday night on Showtime, fellow Georgia lawmakers — including Governor Nathan Deal — expressed embarrassment at the way their colleague behaved.
Initially, Spencer — who introduced a bill in 2016 that would've barred Muslims from wearing head coverings — resisted calls for his resignation, saying he lost his recent primary anyway and would just leave office when his term ended in November. After a few days of reflection, however, Spencer has decided to resign, effective July 31, CNN reported Wednesday.
On Who Is America?, Cohen, disguised as fictional Israeli "anti-terrorism expert" Erran Morad, invited Spencer to learn self-defense techniques to guard himself against Islamic extremists. The techniques Cohen suggested include pretending to be a Chinese tourist, yelling "the n-word" and pulling one's pants down and using one's own nude buttocks as a shield. Cohen said members of ISIS think coming into contact with a man's buttocks will turn them into a homosexual.
Spencer, amazingly, obliged to all of Cohen's suggestions.
In response to the episode, Spencer said he was "exploited" and threatened legal action.