Best Places to Travel: Where chef Kristen Kish eats, drinks and sleeps in Austin, Texas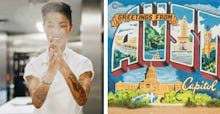 Last month, chef Kristen Kish, opened her first solo restaurant, Arlo Grey, in Austin, Texas. It felt like a natural fit, she said: "The tagline here is 'Keep Austin Weird,' but weird can mean good, different, ever-changing — and I'm very weird."
After winning Top Chef in 2012 and becoming chef de cuisine at Menton in Boston, Kish wrote a cookbook, Kristen Kish Cooking: Recipes and Techniques, and spent five years traveling. From eating noodles at a hawker stand in Singapore to sharing Korean seafood dishes with Canadian Prime Minister Justin Trudeau, Kish took her televised victory to new heights — but didn't immediately stamp her newfound celebrity chef name on a restaurant. While her proposed eatery in Charleston, South Carolina, didn't materialize in 2016, she came across the opportunity to create a restaurant in partnership with the Line Hotel in Austin.
In June, Kish's restaurant opened in Austin, a city known for its thriving restaurant and music scene. Before the restaurant development began, Kish had never been to the Texan city. "You often hear about Chicago, LA, New York, but Austin slowly worked itself onto my radar," she said in a phone interview. "Getting used to the seasons and understanding what [produce] grows in this heat was a learning curve."
In the year and a half it took to develop Arlo Grey, Kish still refused to abandon her Michigan upbringing and Boston roots. "You will never see me in shorts and a pair of flip-flops, even if it's 120 degrees," she said. But opening a restaurant in Austin has left a lasting impression on the chef. "Attaching my name to anything is far more than a business opportunity, it is a complete personal and emotional adventure — as a chef, I'm pouring everything into it."
Though she spends most of the day in the kitchen of her new restaurant, Kish has found some time to explore the sights, sounds and tastes of her new home. Mic spoke to the chef about some of the best places she's discovered in Austin, her go-to drink at dive bars and why staying on an urban farm may be better than a standard hotel.
Where to eat
"Coming from a chef's perspective, anytime I go out to dinner, I'm just excited someone else is cooking," Kish said. "But the food in Austin is just as eclectic as its people. Because Austin is made up of so many people who aren't truly from [here], you're getting a lot of influences and different mixes."
Olamaie is Kish's go-to dinner spot. The Southern restaurant is in a refurbished cottage, known for its off-the-menu biscuits and homey interior. Kish is a regular and often orders the Dewberry Hills Farm Chicken. "It's technically beautiful, but the dish has heart to it," she said. "I tend to gravitate to places that feel like a hug from grandma."
"I tend to gravitate to places that feel like a hug from grandma."
For the brunch crowd, Kish recommends Josephine House, a similarly homey restaurant with locally sourced produce, lemon ricotta pancakes and huevos rancheros on the menu. The restaurant also has an extensive bakery inside, with Nutella morning buns and egg tarts. "It's just good food in a beautiful setting," she said.
Where to spend the night
"One thing I love is the small urban farms," said Kish. "They're unassuming homes with sprawling produce and animals, and each one has a story." Kish recommends HausBar Urban Farm and GuestHaus for an overnight stay. It offers an especially immersive farm experience, giving guests the choice stay at a bungalow on a working two-acre farm with donkeys, chickens and geese. "You wake up and just play with bunnies," she said of her experience there.
Kish said the 428-room Line Hotel in downtown Austin that houses Arlo Grey also celebrates the efforts of locals. "They have so many local artists that do artwork in the room, locals who do floral arrangements — all those little touches. Every time I look around the hotel, I see such a collaboration of brilliant minds."
Where to go for after-hours drinks
"It doesn't matter who you are, everyone is in Austin to have a good time and you definitely feel that energy," Kish said of the nightlife. But given her late hours, partaking in nightlife is a rare pastime — with one exception. "Justine's [Brasserie] is that late-night, down and dirty dive bar you want after a shift." The wine and cocktail bar is a southern take on the Parisian brasserie, with disco balls and DJ sets, and serves late-night munchies until 1:30 a.m.
Kish's late-night drink order? Tequila over a single rock and lots of lime. "Whiskey and a High Life is a usual cook's order, but it's so hot here, I thought 'Shit, I have to switch my drink.'"
Where to get a caffeine fix
"I work in a restaurant and run a restaurant, so having coffee at my disposal is quite simple, but Alfred Coffee in the Line Hotel is part of my morning routine. It's an L.A.-based chain," Kish said. "But there's this place, Henbit, across the street. It's this sort of food hall that has this iced coffee that feels like jet fuel. When you are completely sleep deprived, that's where you go."
How to give back while traveling
Kish said there are different ways travelers can help give back to the local community of Austin. She plans to support Out Youth, an organization of LGBTQ youth in Central Texas, as well as Urban Roots, a group that teaches kids the significance of farming and growing local produce. "Inspiring people to be who they are and live their most authentic life is important to me," she said. "It's something that I came to terms with a little later in life."