Chikesia Clemons found guilty of disorderly conduct in Waffle House incident, attorney files appeal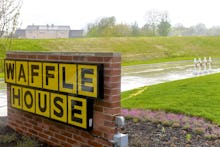 An attorney for Chikesia Clemons — a 25-year-old black woman who was found guilty Monday night of disorderly conduct and resisting arrest at a Waffle House in Saraland, Alabama, in April — has filed an appeal against the verdict handed down at a Saraland court.
Clemons tweeted the news announcing the motion Tuesday. "Saraland nor Waffle House won't get away with this," she wrote.
"It's certainly a disappointment, but it is a challenge we are willing to meet, at every level, and we will," Clemons' attorney, Marcus Fox, told Fox10 News in response to the guilty verdict.
Clemons was sentenced to 10 days plus a fine and court fees, according to the NAACP chapter in Mobile, Alabama, which live-tweeted updates from the hearing Monday night. The chapter also tweeted that the judge suspended the 10-day sentence for a year of probation.
Judge Mark Erwin said Clemons was found guilty because "the facts of the case met the legal definitions required to find a person guilty and had nothing to do with the high level of emotion that had played out in the weeks and months before," AL.com reported, paraphrasing the judge.
Footage of the violent incident was captured in a cell phone video by Clemons' friend Canita Adams. The footage shows two white police officers wrestling Clemons to the ground and exposing her breasts before arresting her.
The video went viral and raised concern about the mistreatment of black customers at the popular diner chain. In June, the social justice organization Color of Change joined with the Clemons family to lead justice rides from Birmingham, Alabama; Mobile, Alabama; and Atlanta to Saraland to demand justice for Clemons. The organization delivered a petition of 50,000 signatures to the Saraland Municipal Court that called for Clemons' charges to be dropped, AL.com reported.
The dispute started when a Waffle House associate tried to charge Clemons 50 cents for plastic utensils, Clemons' mother, Chiquitta Clemons-Howard, told AL.com. Clemons said she had not been told to pay for utensils at Waffle House before, so she asked for the store's district manager's contact information. While she waited for a business card, the police arrived.
Saraland police's briefing differed from Clemons' claims, Fox10 reported in April. An investigator told reporters that witnesses said Clemons and her friend entered the restaurant intoxicated and were asked to leave for bringing alcohol into the establishment. According to the report, an employee called the police because the women were not complying. One witness who spoke to police also said Clemons threatened the employee, Fox10 reported.
The NAACP Mobile chapter tweeted that Irwin "ignored three witnesses" who testified that Clemons did not threaten an employee.