Federal judge strikes down Florida's early voting ban on college campuses as discrimination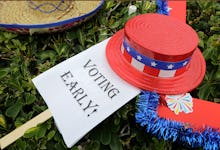 A federal judge struck down a Florida state rule on Tuesday that banned early voting on college campuses, ruling that the ban was unconstitutional and "intentionally discriminatory on account of age."
The League of Women Voters of Florida, the Andrew Goodman Foundation and six former or current students from Florida State University and the University of Florida challenged a 2014 opinion by the state's Division of Elections, which found that Florida's early voting law did not sanction early voting on "college- or university-related facilities." The law allows for early voting sites to be set up on "fairgrounds, civic centers, courthouses, county commission buildings, stadiums, government-owned senior centers, convention centers, and government-owned community centers."
The plaintiffs, supported by Priorities USA Foundation, said the ban was a burden on the approximately 830,000 students enrolled at Florida public colleges or universities, which was in violation of the First, 14th and 26th amendments.
According to the ruling, the plaintiffs reported having to take 40-minute to 60-minute trips each way on public transportation in order to vote early, or devote significant time and resources to coordinate shuttle programs and rides to polling locations. The ruling also noted that voters ages 18 to 21 face added burdens when forced to vote on Election Day, including long lines at polling locations, and are more likely to have a provisional ballot or mail-in ballot rejected than older voters.
U.S. District Judge Mark E. Walker granted the plaintiffs' request for a preliminary injunction against the state ban, ruling that despite what the 2014 opinion says, the state law does not actually prohibit early voting sites on college campuses. Walker said the state's arguments against the early voting sites, which include wanting to prevent parking issues and avoid "on-campus disruption," paled in comparison to the students' "significant burdens."
Walker also struck down the state's defense of the students' voting commutes, which measured the distance between off-campus early voting sites and the edge of college campuses, rather than from where students would actually be traveling from.
"The University of Florida is like Hogwarts, which proscribes on-campus apparating, or instantaneous teleportation," Walker wrote. "Students do not and cannot apparate within the campus. Rather, U.F. students would begin their treks to the early voting site in downtown Gainesville from various points across campus. For example, it is a 2.5-mile distance from the center of campus at a dormitory like Hume Hall to the early voting site."
Walker's 40-page ruling primarily took issue with how the early voting ban unconstitutionally and "lopsidedly impacts Florida's youngest voters." The 2014 opinion, Walker wrote, creates "a secondary class of voters who [the state] prohibits from even seeking early voting sites in dense, centralized locations where they work, study and, in many cases, live."
"Simply put, defendant's opinion reveals a stark pattern of discrimination," Walker wrote. "It is unexplainable on grounds other than age because it bears so heavily on younger voters than all other voters."
Walker even went so far as to compare Florida's early voting rule with a 1910 Jim Crow-era Oklahoma law, which unconstitutionally targeted black voters through new literacy test requirements.
"This court does not lightly compare contemporary laws and policies to more shameful eras of American history," Walker wrote. "But addressing intentional discrimination does not require kid gloves.
"The [Florida] opinion's scope and effects are clear abridgments of voting rights justified by, at best, weak interests. While Oklahoma in 1910 abridged voting rights by choosing an invidious date to exclude African-Americans from voting, Florida in 2014 limited places to stymie young voters from early voting."
In a statement, League of Women Voters of Florida president Patricia Brigham said the ruling was "a victory for the citizens of Florida."
"The court ruling demonstrates that making it easier for our students to vote truly matters," Brigham said. "This is the right decision, at the right time, for our democratic process. With this decision, we have an affirmation that making early voting accessible to all is part of a true democracy."
Florida Gov. Rick Scott's office said in a statement the governor "was proud to have signed the largest expansion of early voting in the state's history" and would "review this ruling," according to the Tampa Bay Times.
Iowans were also dealt a voting rights victory this week, as Priorities USA Foundation reported a federal judge granted a preliminary injunction Wednesday in a legal challenge against portions of Iowa's 2017 voter ID law. The lawsuit took aim at several of the law's key provisions, including the voter ID requirement, signature matching requirements, shortening Iowa's absentee voting window and the elimination of straight-party voting.
It also challenged the government's "misleading" advertisements about the ID law, which ignores that the requirement is in a "soft rollout" through the end of the year. Currently, Iowa voters without an ID can sign a form swearing their identity before casting a ballot
Priorities USA Foundation chairman Guy Cecil said in a statement that the preliminary injunction specifically blocks the absentee voting provisions and the deceptive advertising campaign.
"When eligible Iowa citizens cast their ballots this fall — in person or by mail — they should not be encumbered by the onerous and discriminatory restrictions contained in HF 516 or misled about the new ID requirements," Cecil said in the statement. "Today's ruling is just the first step to ensuring that every Iowan is able to exercise their fundamental right to vote."
The rulings in Florida and Iowa are part of a nationwide battle playing out over voter access ahead of the November midterm elections, as Republican-imposed voter suppression measures are being opposed by individual plaintiffs and such organizations as the League of Women Voters, the American Civil Liberties Union and other voting rights groups.
A Kansas law that mandated documentary proof of citizenship in order to vote, such as a passport, was struck down in June following a legal challenge from the ACLU and League of Women Voters of Kansas. In Michigan, a ballot initiative to expand voter access also moved forward recently, as the measure garnered the required number of signatures in early July. The proposed amendment would expand voting through such measures as allowing absentee voting for any reason and allowing same-day voter registration.
In Florida, voting rights for felons have also been in the spotlight, as a federal judge struck down the state's process for restoring felon voting rights in February. Floridians will vote in November on a ballot measure to determine whether to restore voting rights to a majority of felons who have completed their sentences.
State legislatures have also taken up expanded voting measures on their own initiative. According to the Brennan Center for Justice, at least 41 states had introduced taken up at least 514 measures expanding voting access as of April 2. On July 12, Massachusetts passed an automatic voter registration bill; a similar measure had previously gone into effect in Illinois.
Voter suppression efforts, however, have also still continued to mount. The Brennan Center reported that at least 70 bills have been introduced or carried over that restrict voting rights as of April 2, and the U.S. Supreme Court in June upheld an Ohio voter purge law that disproportionately affects Democratic voters. The Ohio law is indicative of a broader rise in voter purges nationwide; according to the Brennan Center, states removed nearly 16 million voters from voter rolls between 2014 and 2016.
While student voting rights were upheld Tuesday in Florida, students in New Hampshire faced a setback recently, as a law was signed July 13 requiring New Hampshire voters to be permanent residents, obtain an in-state driver's license and register their vehicles in New Hampshire. Opponents say the law amounts to a "poll tax" on students who live in the state as non-permanent residents and were previously allowed to vote. The voters are also more likely to lean Democratic, and opponents speculate the law could benefit Republicans by deterring students from voting in the battleground state.
Americans remain largely in favor of expanded voter access policies. According to a report released July 17 by the Public Religion Research Institute, 72% of Americans believe that felons should be given the right to vote after completing their sentences, 67% support automatic voter registration and 61% support same-day voter registration.
"Quite simply, allowing for easier and more accessible voting for all segments of society serves the public interest," Walker wrote in his ruling Tuesday.
"Voter turnout in the United States is at less than impressive levels. Throwing up roadblocks in front of younger voters does not remotely serve the public interest. Abridging voting rights never does."