The Ivanka Trump brand: A look at whether the recently closed fashion line was actually successful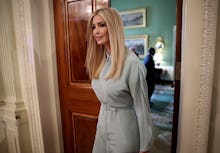 Ivanka Trump's fashion company has been a source of controversy throughout her father's presidency. On Tuesday, she announced the label was shutting down.
"After 17 months in Washington, I do not know when or if I will ever return to the business, but I do know that my focus for the foreseeable future will be the work I am doing here in Washington," Trump told the Wall Street Journal. "So making this decision now is the only fair outcome for my team and partners."
Putting aside the complicated ethics of a White House adviser lending her name to a company that repeatedly capitalized on the fame and power of the U.S. president — which could be seen as a direct violation of the emoluments clause of the Constitution — was Trump's business actually profitable?
There's no easy answer to this question, largely due to the discrepancy in reported numbers: Trump's business is a private one and her fashion brand was an entirely licensed line of products.
In 2016, the New York Times wrote that Trump sold $75 million worth of products in 2013, whereas earlier the same year, Forbes reported her fashion line alone earned $100 million in 2015. The Wall Street Journal later reported that sales "soared" in 2016, while the company that manufactures Trump-branded clothing, G-III Apparel Group, noted a 61% surge in Trump's net sales for the fiscal year ending Jan. 31, 2017.
To further examine her success, we looked back at the history — and the ups and downs — of Ivanka Trump-branded products.
Trump, then 25, debuted her jewelry in September 2007, opening a store on New York City's Madison Avenue before later moving downtown. The future first daughter and presidential adviser expanded to handbags and shoes in August 2011 and announced her foray into apparel the following month.
"I wanted timeless glamour," Trump told InStyle at the time. Her pieces, which included cocktail dresses, blouses, skirts and cardigans, landed at national department stores like Lord & Taylor, Macy's, Bloomingdale's and Nordstrom in February 2012.
Clothes and accessories are just one aspect of Trump's empire, of course. She's written three books, most recently Women Who Work: Rewriting the Rules for Success, and publishes lifestyle content on IvankaTrump.com. Similar to celebrities like Gwyneth Paltrow and Reese Witherspoon, every branch of Trump's company — products, appearances, social media posts — lead back to a person. The brand is Ivanka Trump.
Many decided to boycott brands related to the Trump family during Donald Trump's political ascendancy. Following the release of the infamous Access Hollywood tape — on which the future president was heard bragging he could "do anything" to women, including "grab them by the pussy" — a grassroots movement called #GrabYourWallet organized the family's products, properties and retail partners into a spreadsheet to encourage consumers to boycott those companies.
Citing poor sales, Nordstrom dropped Ivanka Trump's fashion line in February 2017, prompting an angry tweet from the president about his daughter being treated "unfairly." Canada's Hudson's Bay company recently announced it, too, would phase out the brand due to performance issues.
"I'm obviously not thrilled to see people losing their jobs, but I am thrilled for what Ivanka's line shutting down means symbolically," Shannon Coulter, co-founder of the #GrabYourWallet campaign, told Elle following Ivanka Trump's announcement Tuesday. "Retailers do their planning so far in advance, I wouldn't be surprised if a bunch of major retailers have privately told her they're dropping her, and she had to get in front of it.
"I think Ivanka is like Donald, and I don't believe she would shut down her company unless she absolutely had to," Coulter added.
The company's current licensing agreements will expire, the Journal reported, and all of its 18 employees were let go.