John Lee Cowell charged with murder in the stabbing death of Nia Wilson on BART station platform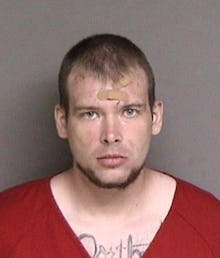 The Alameda County district attorney has charged John Lee Cowell with murder in Sunday's stabbing death of Nia Wilson, an 18-year-old black woman, in Oakland, California. He is also charged with attempted murder for injuring Wilson's sister, Latifah, according to KRON.
Cowell, a 27-year-old felon on parole who was released from prison in May, is accused of attacking the sisters at the Oakland MacArthur BART station. Nia died immediately on the train platform, and Latifah, whose name has also been spelled "Letifah" in other news reports, was treated at a nearby hospital, BART police said. A third sister was not harmed. Cowell was arrested Monday evening at a BART station after a passenger tipped police on his location, the San Francisco Chronicle reported.
Family members and supporters are questioning whether the motive behind the attack was a hate crime; Cowell is white and the Wilsons are black. BART police Chief Carlos Rojas told reporters police have not found any evidence that ties Cowell to white supremacist groups, the Associated Press reported Tuesday, but added that investigators would be exploring "all possibilities."
Latifah said she and Nia had no contact with Cowell prior to the attack.
"He didn't know us, we didn't know him," Latifah said Monday to television station KGO.
Latifah and two of her sisters had been on the way home from a family event, and got off at the MacArthur station to transfer to another train. One sister boarded the train, while Latifah and Nia waited to let a woman with a baby and a stroller to get off. Moments later, the sisters were both stabbed in the neck.
"And I looked back, and he was wiping off his knife and stood at the stairs and just looked — and from there on, I was just caring for my sister," Latifah told KGO.
"I was in shock. ... I didn't know I was cut because I was paying more attention to my sister. But he just stood there, like it was nothing."
Ansar Muhammad, the father of the women, wants justice for what happened to his daughter.
"My daughter was everything to me she was so beautiful, so inspirational," Muhammad told KRON on Wednesday. "I'm supposed to be planning her graduation, not her funeral."
The family has received an outpouring of support in Oakland and on the internet.
On Monday night, hundreds demanded justice for Nia during a vigil for her at the MacArthur station, KTVU reported. Also on Monday, Nia's sister Malika Harris started a "Justice for Nia Wilson" GoFundMe fundraiser with a $9,000 goal. By Wednesday afternoon, more than 1,800 people had raised more than $52,000.
Nia had dreams of being a criminal justice lawyer, owning a dance studio and launching her own makeup line, Latifah told KGO. She was also a rapper. On Monday, Lucas Guilkey, a producer for AJ Plus, posted a video of demonstrators dancing to her music in Oakland.
Reports on Cowell's past show a pattern of violent behavior, the San Francisco Chronicle reported. In 2009, he was charged with felony assault in the beating of a man and punching of the man's daughter with a group of teens. The incident happened in Concord, a city northeast of San Francisco. In 2013, Cowell was convicted of battery in Walnut Creek, about 16 miles outside of Oakland. In 2015, one of his aunts filed a restraining order against him.
According to a statement by Cowell's family to KRON, he was diagnosed with schizophrenia and bipolar disorder.
Wilson's death is one of three deaths that occurred this week as a result of injuries occurring on BART, KTVU reported. On Saturday, Don Stevens, 47, was declared brain dead after being punched by an unidentified man on a train. On Sunday, he was taken off life support.
On July 18, Gerald Bisbee, 51, got into a fight at a BART station that resulted in a small cut to his knee and a bloody lip. On Friday night, he was found dead in his bed; the cause of death was an infection from his cut.
"This is really an anomaly," Rojas, the BART police chief said, according to KTVU. "This doesn't happen on BART. It's rare that we have a homicide so of course this is ramped up to the highest priority when you have three deaths."