Mic Daily: A new study on police homicides, Trump makes claims about the Cohen tape and more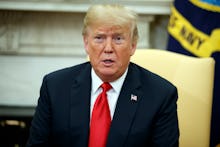 Welcome to Mic Daily: Mic's newsletter that cuts through the noise and lands in your inbox every weekday. We carefully curate each edition to send you a cross section of our most vital stories of the day. Want to receive this as a daily email in your inbox? Subscribe here.
President Donald Trump on Wednesday morning went into defense mode, bashing his former lawyer Michael Cohen for recording what appears to be him discussing hush money payments to a Playboy model, and implying that "positive things" he said were edited out of the tape released by CNN the night before.
The upcoming film Boy Erased, from director Joel Edgerton, stars Lucas Hedges as Jared, a young man from a conservative Christian family whose parents, played by Nicole Kidman and Russell Crowe, send him off to so-called "conversion therapy" when they realize he is gay. For Garrard Conley, who wrote the book upon which the film is based, the overwhelming response to the film's trailer carries special meaning — after all, it's his story on the screen.
Remember that guy, Georgia state lawmaker Jason Spencer, who spewed racist slurs and charged, buttocks-first, at Sacha Baron Cohen during an episode of Who Is America?
He initially resisted calls for resignation — but Wednesday, appeared to have changed his mind.
There's a growing amount of indisputable evidence showing the U.S. really does have a serious law enforcement problem. Police committed roughly 8% of all U.S. homicides involving adult male victims between 2012 and 2018, according to new study published in the American Journal of Public Health.
When Pablo Villavicencio walked free after nearly two months in immigration detention on Tuesday night, it was because of a decision by a George W. Bush-appointed judge.
Check out Mic Dispatch, Mic's new show reporting on the problem-solvers and the provocateurs in our changing world. Subscribe here for alerts on new episodes airing Tuesdays and Thursdays at 8 p.m. Eastern on Facebook Watch.