Pompeo grilled by Senate, says Russia "has acted in a manner unworthy of a great nation"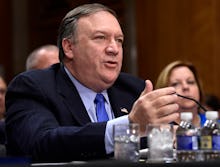 Secretary of State Mike Pompeo on Wednesday called on Russia to "end its occupation of Crimea," pushing back against the Kremlin just over a week after President Donald Trump drew bipartisan criticism for cozying up to Russian President Vladimir Putin.
"As democratic states seek to build a free, just and prosperous world, we must uphold our commitment to the international principle of sovereign equality and respect the territorial integrity of other states," Pompeo said in a statement Wednesday afternoon. "Through its actions, Russia has acted in a manner unworthy of a great nation and has chosen to isolate itself from the international community."
Pompeo's statement came a little more than a week after Trump stirred controversy during a congenial press conference with Putin. The secretary of state released the strongly worded statement just ahead of an appearance before the Senate Foreign Relations Committee, where he faced questions about what transpired during a lengthy one-on-one meeting between the president and the Russian strongman during their summit in Helsinki.
Trump has said that meeting was a success and claimed that he "gave up NOTHING" during his face-to-face with Putin, where the two were joined only by translators.
But Russia has implied that the two had made agreements during their one-on-one, and Democrats have demanded answers about what transpired, with Sen. Bob Menendez (D-N.J.) — the ranking member of the committee — saying Wednesday that Americans have "heard more about the meeting from Putin than from our president."
"We don't know what the truth is," Menendez said in his opening statement.
Pompeo told Menendez that the president had briefed him on "what transpired" during the meeting, but pushed back against questions he said suggested something untoward had occurred during the one-on-one and largely avoided specifics during the early lines of questioning.
However, he suggested to Sen. Ben Cardin (D-Md.) that the meeting had covered business relations between the U.S. and Russia, terrorism and issues related to the conflict in Syria. He said the U.S. had not changed its policy on the Magnitsky Act, which Putin has railed against, or Russia's 2014 annexation of Crimea.
Russia was booted from the G8 following the invasion of Crimea, but Trump has called for Russia to be readmitted to the group of nations and has repeatedly blamed former President Barack Obama for Russia's malign activity in the region.
"He allowed Russia to take Crimea," Trump said at the G7 last month. He also reportedly told G7 leaders at the June summit that Crimea belongs to Russia because its residents speak Russian.
But Pompeo emphasized during his Capitol Hill hearing that the U.S. would not recognize Russia's claims of ownership over the region, pointing in his opening remarks to the Crimea Declaration he released Wednesday.
He also defended Trump's controversial posture toward Russia, saying that the president is seeking to "reverse the course" of Washington's relationship with Moscow while also attempting to pressure Putin to take a less "confrontational" approach. To that end, Pompeo claimed, Trump has taken a "staggering" number of actions against Russia. He also said that the president has a "complete and proper understanding" of the Kremlin's interference in the 2016 U.S. election.
Yet Trump has repeatedly cast doubt on the U.S. intelligence conclusion that Russia attacked the American election system, saying in his joint press conference with Putin that he couldn't see "why it would be" Russia that hacked the election.
He attempted to walk back that statement a day later, claiming he meant to say "wouldn't be" instead of "would be." But even then, he told reporters that he believes "other people" could also be responsible.
Pompeo on Wednesday also defended Trump's performance in Singapore last month with Kim Jong Un, saying that "Americans are safer because of his actions" on North Korea, and his confrontational approach to U.S. allies at the recent NATO summit, telling the Senate panel that it was an example of the president pursuing "peace through strength."
But much of the attention Wednesday was focused on the Helsinki summit and what transpired in Trump's closed-door session with Putin.
"I am concerned, Mr. Secretary," Sen. Jeanne Shaheen (D-N.H.) told Pompeo. "It's been a little over a week since the Helsinki meeting between President Trump and Vladimir Putin, and yet, other than the brief description you just gave us, we don't really know what was discussed during that meeting."