Hype Daily: Demi Lovato's recovery, a 'Frasier' reboot and more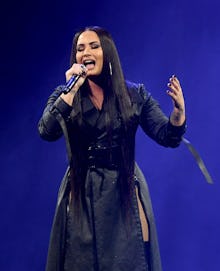 Welcome to Hype Daily, Mic's morning entertainment roundup. Here's everything you need to catch up on in the entertainment world and what to look forward to today. Want to receive this as a daily email in your inbox? Subscribe here.
Good morning from Hype reporter Anna Swartz.
Demi Lovato is still in the hospital
Demi Lovato is still recovering after she was hospitalized Tuesday for what was widely reported to be a drug overdose. People reported Wednesday she was spending another night at Cedars-Sinai hospital in Los Angeles. Her ex-boyfriend, actor Wilmer Valderrama, reportedly visited her in the hospital. Meanwhile, the well wishes continue to pour in from fans and fellow celebs.
Again, Demi, we're rooting for you.
The Rundown With Robin Thede has been canceled
Welp, there's going to be one less woman in the already male-dominated field of late-night talk shows. The Hollywood Reporter reported Wednesday BET canceled the critically acclaimed talk show The Rundown With Robin Thede. Thede, who served as the head writer for Comedy Central's Nightly Show With Larry Wilmore, was the only woman of color to currently host a late-night show. Will The Rundown get the Brooklyn Nine-Nine treatment and find a home somewhere else, or is this really it?
Ava DuVernay's Central Park Five series is coming together
On Wednesday, director Ava DuVernay tweeted out some news about her upcoming Netflix series Central Park Five: Felicity Huffman, Jovan Adepo of Fences and Jharrel Jerome of Moonlight are joining the cast, which already includes Michael K. Williams, Vera Farmiga and John Leguizamo.
DuVernay, who has already investigated the justice system with her Netflix documentary 13th, will take on the story of the five teenagers who were wrongfully convicted for a 1989 rape in the limited series for Netflix, due out in 2019. The series will likely touch on President Donald Trump's role in calling for the death penalty for the teens. I, for one, can't wait to see it.
Frasier might get the reboot treatment
The nostalgia-fueled reboot trend has claimed another victim ... or something. Frasier is the latest show rumored to be making a comeback. Deadline reported Wednesday that Kelsey Grammer, the series' former star and executive producer, has been "fielding interest to put together a new Frasier series." Apparently, the plan for now is for the new show to take place in a different city (the original Frasier was set in Seattle). Maybe Frasier Crane got tired of all the rain?
Put this on your radar: Scotty and the Secret History of Hollywood
Do you love sexy gossip about glamorous Hollywood stars who are now all dead? Then the new documentary Scotty and the Secret History of Hollywood, out Friday, is definitely for you. Scotty Bowers was the real-life proprietor of a Hollywood brothel, visited by some of the biggest stars of the 1950s and '60s. And he spills, well, a lot of secrets in interviews for the new documentary about his business, if reviews are to be believed.
According to Vulture, Bowers lays out which famous people visited his brothel and exactly what they asked for. Cary Grant and Rock Hudson? It happened, apparently. Katharine Hepburn and lots of women? Yes. Watch the trailer here.
Correction: July 26, 2018