7 artists created vibrant portraits memorializing Oakland stabbing victim Nia Wilson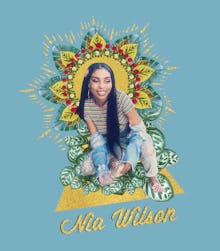 San Francisco-based collage artist Ruben Marquez was moved to action when he learned Nia Wilson, an 18-year-old black woman, had been stabbed to death Sunday at a Bay Area Rapid Transit station in Oakland, California.
Marquez — who goes by "broobs.psd" on Instagram — channeled his emotions into a collage depicting a smiling Wilson against a light blue-and-gold background centered on a glittery, budding flower.
"I made this piece to immortalize [Wilson]," Marquez said in an email Wednesday. "So that she may never be forgotten, and a reminder to all of us to keep fighting."
Since the news of Wilson's death, Marquez and at least six other visual artists have created vibrant pieces memorializing her life and demanding justice in the crime that ended it.
John Lee Cowell — who is white — was charged with murder Wednesday in connection with Wilson's death. He was also charged with attempted murder for injuring Wilson's sister, Latifah Wilson. (Some outlets have referred to her as "Letifah.")
"She was so young [and] had her whole life ahead of her," Marquez said. "It made me extremely sad to see someone so young lost at the hands of white supremacy."
Authorities are still investigating whether the attack was motivated by race.
San Francisco-based rapper Drew Money commissioned Maryland artist Demond Pinder to paint a portrait of Nia Wilson, Pinder wrote Tuesday on Instagram. Pinder and Money hand-delivered the painting to her father, Ansar Mohammed, at a vigil that evening, Pinder explained in a later post.
"Thank u brother Thank u!! That looks just like my babygirl it's beautiful ... all this support makes me stronger. I love you — Mr Ansar Mohammed," Pinder wrote Wednesday, describing Muhammed's reaction to seeing the piece. "Those words were spoken to me last night from Nia's father. I'm just so humbled that I have a gift I can use to connect with people, especially [in] times like this."
California-based illustrator Kaylani Juanita included a quote from an ABC7 interview with Latifah Wilson at the bottom of her illustration of Nia Wilson.
"Remember her for her," Latifah Wilson said. "Not what you hear. That was my little sister... loving, caring, helping every and anybody."
San Francisco-born artist Sarah Green incorporated the words "Say Her Name" into her portrait of Nia Wilson. The phrase has been used as a hashtag to bring awareness to black women victims of police violence and racist attacks.
"A caption doesn't really do it, but trying to help spread visibility for Nia, who was killed in a brutal racial hate crime Sunday night on the Bay Area's public transportation," Green wrote on Instagram.
Illustrator Rachel Frankel, who goes by SheSpeaksEasy on Instagram, shared another illustration of a smiling Nia Wilson with what seems to be a yellow sun behind her. Frankel wrote on Instagram that the MacArthur BART station where Nia Wilson was killed used to be her train stop, so this incident felt close to home.
"This beautiful girl deserved to grow up and live a full life without the threat of white supremacy or hatred lurking over her shoulder," Frankel wrote.
Russian-born self-taught graphic designer Natalia Murobha created a striking digital illustration depicting Nia Wilson in warm shades of brown with a floral backdrop. Murobha sent Wilson's family condolences.
"Rest in Paradise Nia #JusticeForNiaWilson," Murobha wrote. "Prayers up for you and your family."
The Instagram page Recipes for Self Love, run by author and Amsterdam-based artist Alison Rachel, also shared a blush-colored illustration titled "Justice for Nia." In the caption, Rachel issued a call for white people to be more active in dismantling white supremacy.
"We white people are literally killing black people for living," Rachel wrote. "What are you (as a white person) doing to disrupt white supremacy (you don't have to say in the comments)?"