Milo Cress, the kid who started the straw ban movement, doesn't think banning straws is the answer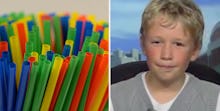 Back when he was 9, Burlington, Vermont, resident Milo Cress convinced the owner of a local restaurant, Leunig's Bistro and Cafe, to stop bringing straws out with every drink order. It was a simple service tweak that would save money and reduce waste.
Now 17, Cress, who founded the project Be Straw Free, speaks at conferences and events about reducing plastic waste around the world. He's also responsible for coming up with the oft-cited statistic that Americans use 500 million plastic straws a day. While he still encourages establishments to adjust how they handle straws, Cress doesn't preach the gospel behind the popular straw "ban" that's overtaken the zeitgeist.
For years, Cress was advocating for what he's dubbed the "offer-first" policy. "The offer-first policy is where a server comes up to your table, takes your order for a drink and asks whether you'd like a straw with your drink," he told Mic in an interview. "And just by doing that, a restaurant can actually cut down on their straw use by 50-80%, which is really exciting because you're not only putting the power of making a choice into the hands of the customer, but you're also making an environmentally responsible step along the way."
There's a major difference between banning straws completely and Cress' approach; the latter makes it possible for those who need or want straws for drinking to access them with ease. "I think often it's assumed that we don't need to use straws at all. Which may be true of some of us, but it's not true of all of us," Cress said, noting that certain people with disabilities may require plastic drinking straws to consume beverages independently and safely.
Rosaleen Moriarty-Simmonds, who was born without arms or legs, told the BBC that "It's a fundamental human right to be able to have a drink and to be able to drink it as and when you need to drink it, and to do it independently." And while there are plenty of plastic-free straws available on the market, not all are suitable for people with disabilities. Disability rights group One in Five explained that metal straws, for example can be a risk for those with neurological conditions. "Businesses are understandably responding to environmental concerns, but in reacting so quickly, the needs of their disabled customers risks becoming an afterthought," founder Jamie Szymkowiak told BBC.
Cress' offer-first policy has reverberated around the country. Many establishments, including all Hyatt Hotel properties and Intelligentsia Coffee shops, have implemented offer-first or "upon request" policies.