Today in Trump's America: Congress takes a big step toward impeachment… but not for Trump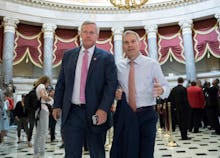 Welcome to Mic's daily read on Donald Trump's America. Want to receive this as a daily email in your inbox? Subscribe here.
Check out Mic Dispatch, Mic's new show reporting on the problem-solvers and the provocateurs in our changing world. Subscribe here for alerts on new episodes airing Tuesdays and Thursdays, 8 p.m. Eastern, on Facebook Watch.
Good morning, I'm Mic's A.P. Joyce, and I'll be handling this newsletter while Emily Singer is off for the next few days.
Here's what's happening in Trump's America:
• President Donald Trump is headed to Peosta, Iowa, on Thursday morning, where he'll tour an advanced manufacturing lab and participate in a roundtable discussion on workforce development.
• The president then heads to Granite City, Illinois, where he will tour a hot strip mill and steel coil warehouse before delivering remarks about his trade policy.
About last night: Pompeo and circumstance
On Wednesday, Secretary of State Mike Pompeo faced a brutal round of questioning from Democrats, and some Republicans, on the Senate Foreign Relations Committee.
"You come before a group of senators today who are filled with serious doubts about this White House and its conduct of American foreign policy," said retiring Republican Sen. Bob Corker in one telling exchange. "It appears that in a 'ready, fire, aim' fashion, the White House is waking up every morning and making it up as they go."
Pompeo spent the hearing walking a fine line between trying to appear forceful on issues concerning Russian — from election interference to its role in the Syrian conflict to its 2014 annexation of Crimea. He also did not contradict the president, who has dismissed nearly all of those issues in one way or another.
Prior to the hearing, Pompeo released a stern statement on the issue of Crimea, calling on Russia to "end its occupation" of the Ukrainian territory. After the annexation, Russia was booted from the international group of wealthy nations known at the time as the G8, which came to be known as the G7 after Russia's departure. Trump has called for Russia to be readmitted to the G7, claiming Crimea is part of Russia because its residents speak Russian.
That contradiction was not lost on New Jersey Democratic Sen. Bob Menendez.
"When the president speaks it is the policy of the United States," Menendez said. "In one respect, I applaud this declaration about Crimea. But then he goes and says that Russia should join the G7. Well, the reason Russia is not in the G7 is because they invaded Ukraine."
The hearing illustrated the challenges administration officials like Pompeo face when trying to carry out foreign policy that is consistent with America's interests without aggravating the petulant resident of 1600 Pennsylvania Avenue.
Defend Trump's positions and risk codifying Trump's policy of appeasement toward Russian President Vladimir Putin. Contradict Trump too much and risk an angry tweet during the B block of Fox and Friends announcing you no longer work in the administration.
Today in Trump's America: Trump touts his trade policy when no one else will
Trump is headed to the industrial Midwest in an attempt to defend his trade policies, amid mounting criticism.
The president plans to tour a hot strip steel mill and a steel coil warehouse in Illinois to highlight the ways in which his tariffs on imported steel are helping American steel workers. In response to those tariffs, international U.S trade partners have levied a series of retaliatory tariffs against the U.S., which threaten to hurt everyone from American soybean farmers to bourbon distillers.
Earlier this week, Trump rolled out a new strategy to mitigate damage — good old-fashioned corporate welfare. Trump announced he would allocate $12 billion in emergency funds to prop up the American soybean farmers — most of whom reside in the same Midwestern region he plans to visit today.
That move has irked many Republican members of Congress, with conservatives like Nebraska Sen. Ben Sasse likening it to spending $12 billion on a pair of "gold crutches."
Trump's short trip to the Midwest comes at a time when his approval rating in that part of the country appears to be slumping. In Minnesota, Michigan and Wisconsin — states he either won or narrowly lost in the 2016 election — his approval is now hovering between 36% and 38%.
Capitol Hill happenings: Congress takes a big step toward impeachment… but not for Trump
A group of House Republicans has had enough and has filed articles of impeachment — just not against the erratic American president.
Members of the House Freedom Caucus have filed articles of impeachment for Deputy Attorney General Rod Rosenstein, who is overseeing the Robert Mueller investigation for the Department of Justice.
Those Republican members claim Rosenstein has failed to turn key documents from the investigation over to the Congress. They're also fauliting him for not creating a second special counsel to investigate the investigators in the case.
"The DOJ is keeping information from Congress. Enough is enough," read a statement by Rep. Jim Jordan (R-Ohio) — who would likely much rather talk about this than the allegation that he willfully ignored a sexual abuse scandal during his time as an Ohio State University wrestling coach. "It's time to hold Mr. Rosenstein accountable for blocking Congress's constitutional oversight role."
Despite their fervor, anti-Rosenstein Republicans don't appear to be taking their own impeachment effort all that seriously. House Freedom Caucus chair Rep. Mark Meadows (R-N.C.), who is part of the effort, declined to use a House procedure that would have forced a vote on impeaching Rosenstein.
Instead, House conservatives appear to be using articles of impeachment as just another incremental way of undermining the Mueller investigation and laying the groundwork for the administration to fire Rosenstein.
However, with this move they're taking away a key weapon in pro-Trump Republicans' arsenal — the notion that, whatever misdeeds bubble up from the president or members of his administration, impeachment is a serious remedy that should only be used in the most extreme circumstances.
And the rest…
Bernie Sanders endorses progressive challenger in Michigan race: Vermont Sen. Bernie Sanders endorsed progressive candidate Abdul El-Sayed on Wednesday night. The gubernatorial hopeful is locked in a tight three-way race with establishment favorite Gretchen Whitmer and the unorthodox candidacy of chemical entrepreneur Shri Thanedar. Should El-Sayed win, he would be America's first Muslim governor.
Trump tweeted about Twitter's supposed "shadow banning": If you're an active Twitter user, today might be a good day to log off. Trump tweeted Thursday morning in response to a recent controversy over Twitter's policy of "shadow banning," or hiding the accounts, of some conservatives, saying "Twitter "SHADOW BANNING" prominent Republicans. Not good. We will look into this discriminatory and illegal practice at once! Many complaints."
An analysis by Vice found many prominent Republicans, including GOP National Committee chair Ronna Romney McDaniel, do not appear in the dropdown bar when their names are typed into the search field, suggesting Twitter is deprioritizing those accounts.