'Mic Dispatch' episode 4: Candace Owens says Democrats have failed black Americans. Is she right?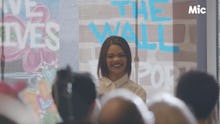 Over the past couple of years, Candace Owens has become a rising star of the political right, and also one of the most polarizing figures in America on the issue of race and politics.
Owens began creating YouTube videos from her bedroom about a year ago. In February, she was named the communications director for Turning Point USA, a right-wing nonprofit organization that aims to educate college students about conservative values.
Owens has told Mic she was raised a Democrat but became a supporter of President Donald Trump during the 2016 presidential election after hearing negative comments about his legitimacy as a candidate. She said that negativity was used as a fear tactic by Democrats to control voters, not protect them. Now, she's on a mission to convince black voters to follow her movement and abandon the Democratic Party, saying that Democratic policies have failed black Americans. Trump is offering something different, she said.
In April, Kanye West tweeted about Owens, praising her ideas and even appeared on TMZ alongside her, subsequently thrusting her into the national spotlight. Since this friendship went public, Owens has amassed a growing number of followers and influence.
In May, Owens also met directly with Trump in the Oval Office. Trump has also praised her publicly, tweeting that she is a "very smart thinker" who is "having a big impact on politics."
Owens' ideas, particularly on race and social issues, are highly controversial. Critics and activists say her comments threaten to normalize racism, sexism and homophobia. Although her ideas have gained widespread attention online — she has over 230,000 subscribers to her YouTube channel — it remains to be seen whether black voters will actually abandon the Democratic Party in the 2018 midterms or beyond.
All of this begs the question: Is Owens' movement to convince black voters to leave the Democratic Party real, and should she be taken seriously? Or is she a provocateur and opportunist who's jumped on the Trump bandwagon to gain attention?
To answer these questions, Mic co-founder Jake Horowitz sat down with Owens on the sidelines of a recent Turning Point USA event at Stanford University, where Owens was invited to speak by the Stanford College Republicans.
Check out this segment on episode four of Mic Dispatch — only on Facebook Watch.
To catch future episodes of Mic Dispatch, follow Mic Dispatch on Facebook Watch. For more stories about the show, visit the Mic Dispatch collections page.