Deadline to reunite immigrant families arrives, but a "serious situation" remains at the border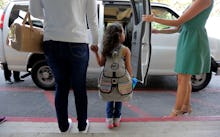 When President Donald Trump's enacted his policy of separating children and parents who sought to enter the U.S. illegally, the idea was that it would serve as a deterrent for future asylum-seekers.
In a June interview, Attorney General Jeff Sessions admitted as much to conservative radio host Hugh Hewitt. "If people don't want to be separated from their children, they should not bring them with them," Sessions said. "We've got to get this message out. You're not given immunity."
But nearly three months after the family separation policy was formally implemented and exactly 30 days after a federal judge ordered the government to reunite the families it had fragmented in the process, immigration activists and legal aid workers are warning that the ongoing situation at the border remains nothing short of a disaster.
In response to Thursday's court-imposed deadline for the government to reunite the nearly 3,000 children over five it had separated under the "zero-tolerance" policy," Efrén C. Olivares, racial and economic justice program director for the Texas Civil Rights Project, said the U.S. is "failing in a crisis it created."
"This deadline marks four weeks since the injunction was issued, but we have clients who have not seen their children in months," Olivares said in a statement. "In South Texas, we've witnessed haphazard reunifications in detention center parking lots at all hours of the day and night. Non-profit relief organizations have been forced to fill the gaps after the government drops families on their door steps with nothing but the clothes on their backs and no way to contact their loved ones or lawyers."
During a July 24 status conference on the family reunification effort, government lawyers said 1,012 of the nearly 3,000 children had been reunited with their parents and another 625 would be deemed eligible by Thursday. But the lawyers also acknowledged that the government may have deported as many as 463 parents without their children, telling the judge that the exact status of those families was still unknown.
Immigration advocates have long contended that, due to language barriers and a lack of resources at the border, detained parents are being given faulty legal advice and, in some cases, being coerced into signing their own voluntary deportation forms in a mistaken belief that it will help them be reunited with their children more swiftly.
"One father was told that if he didn't sign the form presented to him, then he would not see his daughter again," lawyer Kathryn Shepherd wrote in a court affidavit, according to the Washington Post.
It's the same reason that., in a court filing, the American Civil Liberties Union asked U.S. District Judge Dana Sabraw, who issued the preliminary injunction halting the family separation policy in June, to stay the deportations of immigrant parents for seven days after they are reunited with their children in order to allow them to weigh their options and consult with attorneys.
On a call with reporters on Thursday, workers with the legal immigration nonprofit Kids In Need of Defense said that the group's lawyers had repeatedly described working with clients who were not being afforded enough time or resources to make informed decisions about how to navigate the chaotic immigration channels on offer in the U.S.
Michelle Brané, director of migrant rights and justice for the Women's Refugee Commission, said that she had received credible information that the Office of Refugee Resettlement was scrambling to locate the deported parents — but that because the government had kept no records, the effort was proving difficult.
"Keep in mind that most of those parents were fleeing violence, so it's unlikely that they'll be in the same place they were when they left," Brané said. "Just a reminder, the government separated these families with no plan to reunify them, leaving a really serious situation at the border."
"We're seeing cases where parents are so distressed that they're not able to testify during their credible fear interviews," Brané added. "The need for these individuals to consult with attorneys to make sure they understand their rights and these life-altering decisions remains very critical."