Disney to ban single-use plastic straws from all its parks and resorts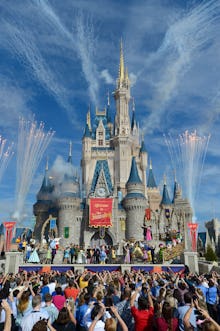 The Walt Disney Company announced Thursday its plan to eliminate single-use plastic straws and stirrers at its owned and operated properties globally by mid-2019. The ban comes on the heels of similar announcements from Starbucks and a number of municipalities to reduce plastic consumption.
The change will account for the elimination of more than 175 million straws and 13 million stirrers annually, according to a post on Disney Parks Blog, and will impact the company's theme parks, cruise line operations and hotels globally. Tokyo Disney Resort, which is operated by the Oriental Land Company, is the only property not included in this ban.
"Eliminating plastic straws and other plastic items are meaningful steps in our long-standing commitment to environmental stewardship," Bob Chapek, chairman of Disney parks, experiences and consumer products, said in a statement. "These new global efforts help reduce our environmental footprint, and advance our long-term sustainability goals."
Paper straws will be provided to guests upon request, a Disney spokesperson said in an email.
Disney's Animal Kingdom, one of its four parks in Orlando, Florida, is ahead of the curve on this issue. Plastic straws were previously banned to protect animal safety.
In addition to its plastic straw ban, Disney said it will complete its removal of polystyrene cups and reduce the number of plastic shopping bags used in theme parks and on Disney Cruise Line, instead offering the option to purchase reusable bags. The company will begin transitioning to refillable bottles for in-room toiletries, reducing plastics in guest rooms by 80%.
SeaWorld Entertainment announced a similar ban in June, removing single-use plastic straws and shopping bags from its 12 theme parks. Royal Caribbean has also pledged to remove plastic straws from its cruise ships by the end of the year.