Jim Jordan to run to replace Paul Ryan as House speaker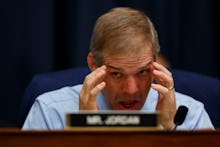 Rep. Jim Jordan (R-Ohio) — one of President Donald Trump's closest allies on Capitol Hill — will run for speaker of the House, he told reporters Thursday.
"We are sending a letter to our colleagues as we speak," Jordan said.
The news, which was first reported by the conservative Daily Caller, came just a day after House Majority Leader Kevin McCarthy (R-Calif.) said in a speech that he wants the next House speaker "to be me." Outgoing House speaker Paul Ryan, who announced in April that he will not seek re-election, has endorsed the California Republican.
But Jordan has long been rumored to be angling for the role, is one of the founders of the conservative House Freedom Caucus. He has risen in prominence over the past year as one of the most vocal critics of the FBI investigation into Russian interference in the 2016 election and possible collusion on the part of President Donald Trump and his campaign.
On Wednesday, the eve of his announcement, Jordan and Rep. Mark Meadows (R-N.C.) filed a resolution to impeach Deputy Attorney General Rod Rosenstein, who has overseen the Russia investigation since Attorney General Jeff Sessions recused himself from the matter in early 2017.
"We can't get answers for the American people if we can't get information from the [Department of Justice]," Jordan tweeted Wednesday night. "It's time to impeach Rod Rosenstein."
Rosenstein's job security has been a matter of public speculation for months, and such a move would almost certainly be viewed as an attempt to hamstring special counsel Robert Mueller, but Jordan and Meadows' motion is unlikely to pass.
Jordan and Meadows have accused Rosenstein of slow-walking their demands for documents related to the FBI probes into Russian interference and Hillary Clinton's use of a private email server, overseeing "potentially improper" surveillance warrant authorizations and blocking them from information about the special counsel investigation.
Trump has also bashed Rosenstein on numerous occasions, describing him as politically biased against him and characterizing the Russia probe as a "witch hunt."
Jordan's bid for House Speaker also comes as the Ohio Republican faces accusations that he ignored alleged sexual abuse of student-athletes by a team doctor while an assistant wrestling coach at Ohio State University.
Several former wrestlers have said Jordan knew about the alleged abuse, but did nothing about it. He has denied having knowledge of the misconduct, saying he "would have dealt with it" had he been aware, and some of his backers have suggested that the accusations against him are part of a "deep state" plot to bring him down.
Trump has voiced support for Jordan amid the scandal.
"I don't believe them at all," Trump told reporters of Jordan's accusers. "I believe him."