Michelle Williams quietly married musician Phil Elverum in a "secret ceremony"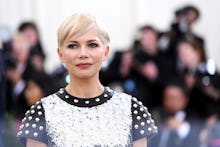 Oscar-nominated actor Michelle Williams dropped some big news in a new Vanity Fair profile — the 37-year-old married musician Phil Elverum of Mount Eerie in a "secret ceremony in the Adirondacks" with only a small group of friends and family as witnesses.
The two met through a mutual friend, the profile revealed. Both Williams and Elverum have young daughters, and both underwent tragic, and very public, losses. Williams was in a relationship with actor Heath Ledger from 2004 to 2007 and the two had a daughter together, named Matilda. Ledger died in 2008 — his cause of death was ruled to be an accidental overdose.
Elverum, a singer-songwriter who performs under the name Mount Eerie, has been married before, to Geneviève Castrée. Castrée was diagnosed with stage four pancreatic cancer in 2015, just months after the birth of the couple's daughter. She died shortly after that. Elverum's 2017 album, A Crow Looked at Me, came out of his grief and offered an unsparing look at his life as he coped with the fallout of his wife's death. His most recent album, Now Only, which was released in March, is a companion to A Crow Looked at Me.
According to Vanity Fair, Elverum "packed up his home in Anacortes, Washington" and moved to Brooklyn, New York, to live with Williams and each of their daughters in July. "I never gave up on love," Williams told Vanity Fair. "Obviously I've never once in my life talked about a relationship ... but Phil isn't anyone else. And that's worth something. Ultimately the way he loves me is the way I want to live my life on the whole. I work to be free inside of the moment. I parent to let Matilda feel free to be herself, and I am finally loved by someone who makes me feel free."
Williams said that she wanted to share her story in the hopes that it could help or inspire other women who have "struggled as much as I struggled."
Beyond the news of her recent marriage, Williams opened up to Vanity Fair about her fight for equal pay for women in Hollywood — including the controversy around the pay disparity for reshoots for the 2017 film All the Money in the World. Williams was paid less than $1,000 total to reshoot scenes for the film after director Ridley Scott decided to replace accused abuser Kevin Spacey. Williams' costar, Mark Wahlberg, was paid $1.5 million for the reshoots.
"It wouldn't have occurred to me to ask for money for the reshoots," Williams told Vanity Fair, adding that she "just wanted to do the right thing." Wahlberg later donated $1.5 million to the Time's Up Legal Defense Fund in Williams' name. The stark disparity helped make Williams a de facto advocate for women in Hollywood — a role she told Vanity Fair she has come to accept.
"It's a very hard thing for me to navigate because my instinct is to keep my life very, very private," she said. "But I also need and want certain things out of my career that demand I assume a more public voice."