'Mic Dispatch' episode 4: Candace Owens; beauty products' toxic ingredients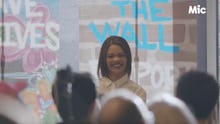 On this edition of Mic Dispatch, we sit down with Candace Owens — a rising conservative star, but also one of the most polarizing figures in the United States on the issue of race and politics.
Owens got her start making YouTube videos from her bedroom and is now on a mission to convince black voters to follow her and abandon the Democratic Party. Owens' critics say her highly provocative and incendiary comments threaten to normalize racism, sexism and transphobia.
Furthermore, although her ideas get widespread attention online, there is little evidence to support Owens' hope that black voters will abandon the Democratic Party in the 2018 midterms or beyond. All of this leads to the question: Is Owens' movement real, and should she be taken seriously? Or is she merely a provocateur and opportunist who's jumped on the Trump bandwagon just to get attention?
Next up, we partnered with the Nation Institute's Investigative Fund, a nonprofit newsroom for investigative journalism, to analyze a dozen makeup tutorials posted by six YouTube beauty influencers to understand the cosmetic regimens being marketed to teens, with a specific eye to how many products were being featured in each video and the ingredients in those products. The influencers in our analysis — Andrea's Choice, Kathleen Lights, Olivia Jade, Amanda Steele, NikkieTutorials and Mel Joy — did not respond to multiple requests for comment on how they decide which products to promote and whether they consider ingredient and exposure concerns when making their videos.
At least two-thirds of the products from the videos we analyzed contained ingredients that consumer safety experts say have been linked to hormone disruption, cancer, environmental issues or other health risks.
Check out episode 4 of Mic Dispatch above — only on Facebook Watch.
To catch future episodes of Mic Dispatch, follow Mic Dispatch on Facebook Watch. For more stories about the show, visit the Mic Dispatch collections page.