Mic Daily: Trump threatens Twitter, Disney to ban plastic straws and more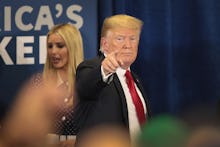 Welcome to Mic Daily: Mic's newsletter that cuts through the noise and lands in your inbox every weekday. We carefully curate each edition to send you a cross section of our most vital stories of the day. Want to receive this as a daily email in your inbox? Subscribe here.
Want more entertainment news in your inbox instead? Sign up for Hype Daily— Mic's morning entertainment roundup. It's got all the news you need to start your day.
On Thursday, President Donald Trump issued a broadside against what one would imagine is his favorite website: Twitter. He tweeted a vague threat that he'll be looking into so-called shadow banning on the site.
Rep. Jim Jordan (R-Ohio) — one of President Donald Trump's closest allies on Capitol Hill — will run for speaker of the House, he told reporters Thursday.
The Walt Disney Company announced Thursday its plan to eliminate single-use plastic straws and stirrers at its owned and operated properties globally by mid-2019. The ban comes on the heels of similar announcements from Starbucks and a number of municipalities to reduce plastic consumption.
The American Civil Liberties Union used facial recognition software to cross-reference a mugshot database with a list of Congress members. The test incorrectly matched 28 members of Congress with mugshots of people arrested for a crime.
San Francisco-based collage artist Ruben Marquez was moved to action when he learned Nia Wilson, an 18-year-old black woman, had been stabbed to death Sunday at a Bay Area Rapid Transit station in Oakland, California.
Since the news of Wilson's death, Marquez and at least six other visual artists have created vibrant pieces memorializing her life and demanding justice in the crime that ended it.