Chloe Dykstra opens up after AMC reinstates Chris Hardwick: "I wish to move on with my life"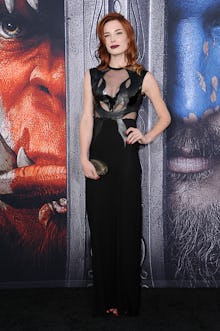 On Wednesday, news broke that AMC was reinstating Chris Hardwick as the host of its Walking Dead-themed talk show, Talking Dead, after abuse allegations against Hardwick were made by his ex-girlfriend, actress Chloe Dykstra. In a statement posted to Twitter Thursday evening, Dykstra spoke out, saying that she had chosen not to participate in AMC's investigation into Hardwick.
"I have been adamant since I came forward with my essay that I never set out to ruin the career of the person I spoke about," Dykstra wrote, referring to the piece on Medium where she first detailed the allegations. "I could have provided more details, but chose not to. I have said what I wanted to say on the matter, and I wish to move on with my life. For that reason, I chose not to participate in the investigation against the person I spoke of."
She added that she "felt compelled" to share her story as a way of offering support to victims of emotional abuse — work she said she wants to continue. "I intend to focus on the subject I originally wanted to shed light on: emotional abuse. I plan to continue this conversation and intend to work with institutions like RAINN and other support groups for survivors."
Dykstra never mentioned Hardwick by name in the essay she posted on Medium in June, but the identifying details made it clear. In the essay she alleged that her ex-boyfriend had sexually assaulted and emotionally abused her during their relationship — including setting "rules" for Dykstra that dictated her friendships and choices.
AMC suspended Hardwick as host of Talking Dead after the allegations were first made public, and he did not participate in Comic-Con panels for the show. But on Wednesday the network said it had made the decision to allow Hardwick to return to the show in August. "We take these matters very seriously and given the information available to us after a very careful review, including interviews with numerous individuals, we believe returning Chris to work is the appropriate step," the network said in a statement, according to Variety.
In a message posted on Twitter along with her statement on Thursday, Dykstra wrote, "I originally wrote my essay so I could move on with my life, and now I intend to do so. Thank you, again, to those who have supported me during this."