Today in Trump's America: Michael Cohen says Trump knew about the infamous Trump Tower meeting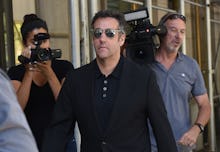 Welcome to Mic's daily read on Donald Trump's America. Want to receive this as a daily email in your inbox? Subscribe here.
Check out Mic Dispatch, Mic's new show reporting on the problem-solvers and the provocateurs in our changing world. Subscribe here for alerts on new episodes airing Tuesdays and Thursdays, 8 p.m. Eastern, on Facebook Watch.
Good morning, This is Mic's A.P. Joyce, and I'll be handling this newsletter while Emily Singer is off for the next few days.
Here's what's happening in Trump's America:
• President Donald Trump will meet with Secretary of State Mike Pompeo, and then with the National Security Council, to discuss election security.
• Then the president will head to his home in Bedminster, New Jersey, for the weekend.
About last night: Michael Cohen says Trump knew about the infamous Trump Tower meeting in advance
On Thursday, CNN was first to report that President Donald Trump's former personal attorney Michael Cohen is now claiming that the president knew in advance about the infamous summer 2016 meeting between Trump's inner circle and a Kremlin-connected lawyer.
Cohen's reported account directly contradicts Trump's earlier claim to reporters that he knew nothing about the meeting. The July 2016 Trump Tower meeting at the height of the presidential campaign was attended by his eldest son Donald Trump Jr., his son-in-law Jared Kushner and his then-campaign manager Paul Manafort.
Sources told CNN that Cohen does not have evidence to back up his claim, but is willing to back up his account to special counsel Robert Mueller.
This news comes at a time when Mueller is reported to be looking at Trump's public comments, including his tweets, as part of his investigation. If that's true, it could mean that Mueller believes that Trump's attempts to mislead the press about key issues could be considered obstruction of justice by federal investigators.
The president's attorney, Rudy Giuliani, immediately took to CNN to call Cohen's claim a lie.
"He's been lying all week, he's been lying for years," Giuliani said on CNN Thursday night. "I don't see how he's got any credibility."
Now the issue of obstruction appears to be devolving into a public battle between the president's two lawyers on the issue of credibility, and neither side has much of a leg to stand on.
Today in Trump's America: Trump gets a briefing on election security
Later today, the president is scheduled to meet with Secretary of State Mike Pompeo and then his National Security Council to discuss election security ahead of November's midterms.
Going into the meeting, the president has been using many excuses to say he doesn't believe what the intelligence community already knows: the Russian government is meddling in U.S. elections in order to aid his presidency.
Following his disastrous summit with Russian President Vladimir Putin, Trump was asked by a reporter whether or not he believes the Kremlin continues to try and hack our elections. He responded, "No." The White House later tried to walk back that claim with the dubious explantation that the president was saying "no" to taking questions and not responding to the question itself.
Just a few days later, Trump tried a new tactic: tweeting that Russia would probably try and help Democrats, not Republicans, in 2018.
"I'm very concerned that Russia will be fighting very hard to have an impact on the upcoming Election," the president wrote in a July 24 tweet. "Based on the fact that no President has been tougher on Russia than me, they will be pushing very hard for the Democrats. They definitely don't want Trump!"
That claim is undermined by the news that Russia has already begun targeting at least one anti-Trump Democrat ahead of the election (more on that below). Now the question is, how will Trump react to his briefing with his national security team, and will he turn around and make yet another claim about Russian hacking that flies in the face of what the intelligence community has said?
The White House may have found a temporary workaround to that problem. On Thursday, as he departed for a slate of events in the midwest, the White House took the unusual step of having the president take a motorcade to Andrews Air Force base, instead of his usual helicopter ride.
What's the difference? The typical helicopter ride on Marine One requires the president to walk across the White House lawn, where reporters will shout questions to the president as he goes to board. On Thursday, the White House cited "bad weather" as the reason for the change in transport. There were clear skies and it was a beautiful summer day in the nation's capital.
Some have suggested that the change may actually be more about the president's impulse control, and what he might say to reporters as he departs. Today, they will be faced with a similar decision, when the president prepares to depart for his New Jersey home following the election security meeting. How he gets there could tell us a lot about what the president took away from that meeting and what he's willing to do to keep American elections secure.
Capitol Hill happenings: Russia targeting a vulnerable anti-Trump senator
A major new report from the Daily Beast claims that Russian hackers actively targeted at least one vulnerable Democratic U.S. senator ahead of the 2018 elections.
The re-election campaign of Sen. Claire McCaskill, a Missouri Democrat, was reportedly targeted by Russia just as she was beginning to put campaign together. The attempt was made through the same sort of email phishing scam used against Hillary Clinton's campaign manager, John Podesta, in 2016.
McCaskill released a statement on Thursday claiming the attempt was unsuccessful.
"While this attack was not successful, it is outrageous that they think they can get away with this. I will not be intimidated," McCaskill said in the statement. "I've said it before and I will say it again, Putin is a thug and a bully."
McCaskill is one of a handful of vulnerable Senate Democrats running for reelection in states that Trump won in 2016. However, unlike other red-state Democrats up for reelection, like Sens. Joe Manchin (D-W.V.) and Heidi Heitkamp (D-N.D.), McCaskill has refused to cozy up to the president, remaining a staunch and vocal critic of Trump.
Unseating McCaskill using hacked materials would be a major coup for Russia, showing that they can punish Trump's more vulnerable critics.
And the rest…
Senate passes bipartisan bill to roll back tariffs, as Trump doubles down: On Thursday, just before leaving town for the month of August, the Senate took action on a little-noticed bipartisan bill to roll back tariffs on U.S. imports — even as the president ramps up his trade war with other nations. The bill long predates Trump's tariffs on steel and aluminum imports, having passed the House in January.
Even though the bill passed the House 402-0 back in January, a lot has changed since then. Trump has openly embraced tariffs throughout the year, tweeting on Tuesday that "Tariffs are the greatest!" Now the House will have to decide whether or not to send an overwhelmingly bipartisan bill rolling back U.S. tariffs to the president's desk, and risk appearing at odds with Trump's agenda.
Trump's new EPA chief is already following in Pruitt's footsteps: Less than a month into his tenure as acting Environmental Protection Agency administrator, Andrew Wheeler appears to have already violated a key ethics agreement over the influence of special interests.
On Thursday, E&E News reported that Wheeler has already met with several of his former lobbying clients while in office. That could be a direct violation of an ethics agreement Wheeler signed when he entered the federal government.