Democrats call on Republicans to safeguard elections as Trump meets with National Security Council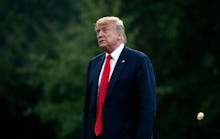 Democrats continued to call on their Republican counterparts to protect the United States election system from foreign attacks as President Donald Trump convened a National Security Council meeting Friday to discuss the issue.
"We were attacked in 2016," Rep. Mike Quigley (D-Ill.) said in a phone interview Friday. "We're not ready. The president is not ready to lead. In his absence, we have to."
The renewed Democratic push to safeguard the American election system against foreign interference comes less than two weeks after Trump drew an outpouring of scrutiny over his dismissal of Russia's meddling in the 2016 election during a press conference with Russian President Vladimir Putin. It also comes just a few months out from November's midterms that the president suggested last week the Kremlin won't be targeting.
Democrats have demanded action from Trump and Republicans, and last week Quigley — ranking member of the House Intelligence Committee's subcommittee on appropriations — moved to allot another $380 million to fund election security measures because, he said, "most states maxed out" on grants they'd previously secured.
But Republicans in the House shot down that effort in a party-line vote, arguing that such funding was unnecessary as Democrats chanted, "U.S.A.!"
"The president's party continues to try to protect him politically and legally," Quigley said in a phone interview. "Coming after Helsinki, [voting with Democrats] would've been seen as an affront to Trump, saying, 'You're wrong.'"
After a controversial one-on-one summit with Putin in Helsinki, the president held a joint press conference with his Russian counterpart in which he sided with the strongman over his own intelligence agencies, including Director of National Intelligence Dan Coats, who has been firm in his contention that Russia did interfere in the election.
"[Coats] came to me, some others, they said they think it's Russia," Trump said at the press conference, "I have President Putin. He just said it's not Russia. I will say this, I don't see any reason why it would be."
Trump later backtracked on that statement, but in doing so still appeared to raise doubts about the unanimous U.S. intelligence conclusion that Russia was responsible for the attack on the U.S. election in 2016, telling reporters that it "could be other people also."
He also suggested last week that Russia no longer poses a threat to the U.S. election system — a claim that runs counter to what U.S. intelligence officials have said.
"Is Russia still targeting the U.S., Mr. President?" a reporter asked him in the Cabinet room of the White House July 18.
"Thank you very much. No," Trump said.
"No, you don't believe that to be the case?"
"No," the president replied.
While it seemed clear that Trump was telling the reporter that he does not believe Russia to be targeting the U.S. election system, White House press secretary Sarah Huckabee Sanders claimed later that day that the president had actually been saying "no" to answering further questions.
Still, the remarks — along with his ongoing hostility toward the Russia investigation — have continued to raise concerns among Democrats that Trump and the GOP are not taking the security of the upcoming midterm elections seriously.
Indeed, there are some indications that Russia has already begun a campaign to meddle in the 2018 election.
On Friday, the Daily Beast reported that the same intelligence outfit that was behind the Kremlin's 2016 interference had already attempted to hack the re-election campaign of Sen. Claire McCaskill — the Missouri Democrat who has been a critic of Russia and who is widely seen as one of the more vulnerable Democrats in 2018.
While McCaskill says Russia's attempt to hack her campaign in August 2017 — around the time Trump railed against her during a rally in her home state — was unsuccessful, the attempt seems to confirm the warnings from U.S. officials, including former CIA director and current Secretary of State Mike Pompeo, that the Kremlin will continue its meddling efforts.
"News that Russian hackers targeted Claire McCaskill's staff shortly after Trump called for her ouster is a chilling sign of Kremlin plans for midterms," Rep. Adam Schiff (D-Calif.) said in a tweet Friday. "All Americans, of all parties, must denounce this, even if Trump won't."
Trump has continuously pushed back against the Russia probe and suggested that notions of Kremlin interference are a Democratic "excuse" for losing the 2016 election. He did imply this week that he believes Russia will target the midterm elections, but claimed that it will be "pushing very hard for the Democrats" because they "definitely don't want Trump" — despite the fact that Putin said in their Helsinki press conference that he wanted Trump to win.
Quigley said he will keep pushing for election security funding, which would include money to update outdated election equipment, but expressed concern that he'll continue to lack Republican support. Such a measure would stand more of a chance if Trump came out of Friday's election security meeting behind it, but didn't believe that was very likely, he said.
"It's never too late to do the right thing. It would help a lot if the president left this meeting and said to his party, 'Let's do it,'" Quigley said. "But I don't have a lot of hope."