While You Weren't Looking: 5 stories from the Trump administration that aren't about Cohen's tape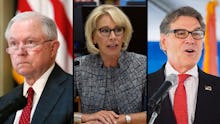 This week the news was dominated by the release of a taped conversation between the president and his personal attorney Michael Cohen, who were discussing a potential hush money payment for Playboy model Karen McDougal.
As the nation listened to the Trump tape, members of his administration were carrying out major policy decisions that could have serious consequences for everyday Americans. Here are five important stories you might have missed.
Devos wants to cut student debt relief for victims of for-profit college fraud
Education Secretary Betsy DeVos wants to significantly pair back an Obama-era program designed to give relief to borrowers who were defrauded by for-profit colleges, according to a report in the New York Times.
The program had been designed to give student loan forgiveness to former students of two now defunct for-profit colleges: Corinthian Colleges and ITT Technical Institute.
DeVos's new proposal, which will go into effect next summer, would require defrauded students to show that they have fallen into "deep financial distress" after leaving the colleges in order to qualify for any forgiveness, according to the Times.
Both Corinthian and ITT Tech were found to have defrauded students with both misleading claims about the education they were receiving and false advertising.
Justice Department orders employees to stop saying "undocumented"
The Justice Department is officially ordering all U.S. attorney's to stop using the term "undocumented" and start referring to unauthorized non-citizens living in the U.S. as "illegal aliens" according to a report from CNN.
The order came down in an agency-wide email claiming that the term "undocumented" is "not based in U.S. code and should not be used to describe someone's illegal presence in the country."
Many consider the term "illegal alien" to be an offensive slur against people living in the U.S. without authorization. Major newspapers, as well as the Associated Press, have stopped using the term as part of their official style guide.
Trump's "zero tolerance" policy found to have a lot of tolerance for corporate crime
President Donald Trump loves to tout his "tough on crime" and "law and order" approaches to governance.
But a new report from the watchdog group Public Citizen shows that penalties for corporate crime from Trump's administration have actually plummeted compared to the final years of the Obama administration. Eleven of the 12 agencies with the power to impose fines on corporations have dropped their level of enforcement by more than 50%.
At the Department of Justice, the Environmental Protection Agency, the Federal Communications Commission and the Commodities and Futures Trading Commission, corporate fines are all down by at least 80%.
Trump's new EPA administrator sure seems a lot like Scott Pruitt
Acting Environmental Protection Agency administrator Andrew Wheeler has been on the job for less than a month. But already, he seems to be living up to the wildly unethical legacy left by his predecessor, Scott Pruitt.
On Thursday, the environmental news website E&E News reported that Wheeler had potentially violated an ethics agreement he signed when entering the administration by taking several meetings with former clients from his days as a coal and energy lobbyist.
Wheeler even met with his second largest former client, biodeisel company Darling Ingredients, just one day before telling Bloomberg News that he felt it would be inappropriate for him to take meetings with former clients.
Now Wheeler is facing calls from Democrats for an ethics investigation into the meetings, according to the Huffington Post.
Department of Energy curtails power of nuclear energy safety board
The Department of Energy is moving to roll back several powers of a key nuclear safety oversight board, according to ProPublica.
The order prevents the Defense Nuclear Facilities Safety Board, an oversight body within the Energy Department, from exercising key powers including accessing sensitive information used in overseeing the safety and protection of America's nuclear weapons.
This despite the fact that the Board has previously found major shortcomings in U.S. facilities that house and protect nuclear weapons.
This is just the latest effort by the Trump administration to hack away at the board's authority, after the board's previous chairman proposed doing away with the entire body last summer.