Mic Daily: Democrats call for election security and more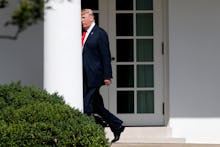 Welcome to Mic Daily: Mic's newsletter that cuts through the noise and lands in your inbox every weekday. We carefully curate each edition to send you a cross section of our most vital stories of the day. Want to receive this as a daily email in your inbox? Subscribe here.
Want more entertainment news in your inbox instead? Sign up for Hype Daily — Mic's morning entertainment roundup. It's got all the news you need to start your day.
Democrats continued to call on their Republican counterparts to protect the U.S. election system from foreign attacks as President Donald Trump convened a National Security Council meeting Friday to discuss the issue.
AMC announced Wednesday it was reinstating Chris Hardwick as the host of its Walking Dead-themed talk show, Talking Dead, after completing an investigation into abuse claims against him made by actress Chloe Dykstra, his ex-girlfriend. Dykstra said Thursday on Twitter that she had chosen not to participate in AMC's investigation.
Back when he was 9 years old, Burlington, Vermont, resident Milo Cress convinced the owner of local restaurant Leunig's Bistro and Cafe to stop providing straws with every drink order. It was a simple service tweak that would save money and reduce waste.
Now 17, Cress, who founded the project Be Straw Free, speaks at conferences and events about reducing plastic waste around the world.