Former Trump lawyer: Rudy's rambling on Cohen "damaging" Trump's case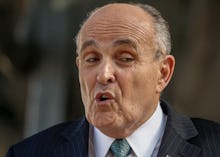 President Donald Trump's case was "immeasurably" damaged by Rudy Giuliani's contradictory comments about Michael Cohen recently, according to a friend and former attorney of the president.
"I knew as soon as Giuliani spoke that he was damaging Trump's case immeasurably," Jay Goldberg, Trump's former divorce lawyer, told CNN on Friday night. "It ranks near 100 in terms of damage."
Giuliani — the public face of Trump's legal team — has offered up wildly divergent characterizations of the president's longtime attorney and fixer in the months since the FBI raided him in April.
In May, Giuliani told ABC News' This Week that he wasn't concerned about Cohen cooperating with investigators, including special counsel Robert Mueller, because he is "an honest, honorable lawyer."
But this week, after it was reported that Cohen claims Trump knew in advance about the shady meeting his son and top advisers held in 2016 with a Kremlin-connected lawyer they believed had dirt on Hillary Clinton, Giuliani went on the attack.
"I expected something like this from Cohen," Giuliani said on CNN on Thursday. "He's been lying all week. He's been lying for years."
"I don't see how he has any credibility," Giuliani added, referring to Cohen.
The meeting Donald Trump Jr., Jared Kushner and Paul Manafort took with Natalia Veselnitskaya, apparently to gather damaging information about Clinton, has been a key episode in Mueller's investigation into possible collusion between the campaign and the Kremlin. Additionally, Trump's response — during which he and members of his administration claimed he hadn't known about it — has been examined in the special counsel's probe into possible obstruction of justice.
According to CNN on Thursday, Cohen says he and several others were present when Trump's eldest son told him about the meeting and that he gave Don Jr. the go-ahead. Cohen is reportedly willing to tell Mueller about it.
But Trump on Friday claimed that Cohen is lying to get himself out of unrelated legal problems.
"I did NOT know of the meeting with my son, Don jr.," Trump tweeted Friday morning. "Sounds to me like someone is trying to make up stories in order to get himself out of an unrelated jam."
Cohen — who is facing possible legal peril for a number of possible crimes, including potential campaign finance violations related to the hush money he gave porn actress Stormy Daniels to keep her from talking about her alleged affair with Trump — has dominated the news this week.
On Tuesday, a recording emerged of he and Trump discussing a plan to silence former Playboy model Karen McDougal by purchasing her story from the National Enquirer, which is owned by a friend of Trump, through a shell company.
The tape undercuts the Trump team's claim that he knew nothing about the Enquirer's McDougal story before the election — and seems to feature Trump telling Cohen to "pay with cash" for the story, which would directly contradict the characterization of the tape Giuliani gave the New York Times when it first reported on the recording last week.
Giuliani has maintained the recording reveals Trump did nothing wrong.
But according to Goldberg on Friday, Giuliani doesn't appear to be helping Trump with his uncontrolled response to the Cohen revelations, which include his flip-flopping on Cohen's credibility.
"No defense lawyer would say that," Goldberg told CNN's Erin Burnett on Friday. "I didn't think Giuliani knew how to handle a case from the defense perspective. He was a long-time prosecutor and he didn't know how to set a case up for the possible impeachment of a witness such as Cohen."