CBS exec Les Moonves accused of sexual misconduct in latest Ronan Farrow bombshell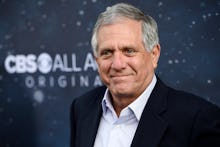 Six women have accused Les Moonves, the powerful longtime head of CBS, of sexual misconduct and intimidation spanning decades, journalist Ronan Farrow reported in the New Yorker Friday.
The accusers, who include actress Illeana Douglas, say Moonves made unwanted — and sometimes physically aggressive — advances toward them and threatened to derail their careers when they turned him down.
The allegations span from the 1980s to the late 2000s.
"It was physically scary," Douglas told Farrow of an encounter in which Moonves backed her against a wall and pressed himself against her. "It was so invasive."
Moonves, 68, joined CBS in 1995 as the head of the network's entertainment division and became president and CEO of the company three years later. During his tenure, CBS became one of the most successful networks on television and was inducted into the Television Academy Hall of Fame in 2013.
As Farrow noted, Moonves has also been a vocal supporter of the #MeToo movement that has exposed decades of sexual misconduct in the entertainment industry and beyond, with the CBS chief founding a commission dedicated to eliminating workplace sexual harassment and saying last year that the cultural reckoning was a "watershed moment."
But privately, Farrow reported, Moonves had a pattern of sexual harassment and misconduct — and fostered a hostile workplace environment that extended to other parts of the network, including its news division, where men "who were accused of sexual misconduct were promoted, even as the company paid settlements to women in complaints."
Farrow details the particularly "toxic culture" surrounding 60 Minutes, the network's flagship news program, whose executive producer, Jeff Fager, is accused in the exposé of touching female employees inappropriately and seeming to "encourage" a hostile work environment.
In a statement to the New Yorker, CBS said that while it is "mindful of all workplace issues and takes each report of misconduct very seriously," it does not agree with Farrow's depiction of the network's company culture.
Moonves said in his own statement to the magazine that "there were times decades ago when I may have made some women uncomfortable by making advances," but that he never forced himself on anyone and "never misused my position to harm or hinder anyone's career."
Moonves is now the latest powerful figure to have his alleged sexual misconduct exposed by Farrow, whose reporting on Hollywood mogul Harvey Weinstein earned him a Pulitzer and helped jumpstart the #MeToo movement last year.
Farrow — whose reporting on Moonves spanned eight months — said in a CNN interview Friday evening that the women's goal was not necessarily to bring down the CBS executive, but to shine a light on the kind of misconduct he allegedly perpetuated.
"These are allegations that are very, very heavily corroborated. The facts are on the side of these women, otherwise they wouldn't be in print here," Farrow told Erin Burnett Friday. "What was important here in the minds of these women was not taking down Les Moonves or the effect on Les Moonves' career. It was bringing light to these kinds of stories which I think will resonate with women — and men — in so many industries."