In new video message, Trump invokes 9/11 to justify immigration policies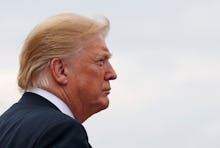 President Donald Trump defended Immigration and Customs Enforcement and his hardline immigration policies by invoking the 9/11 terrorist attacks in a new video message released Saturday.
"One of the critical lessons of 9/11 is that immigration enforcement saves lives," Trump said in the bizarre video after describing the 2001 terrorist attacks that left almost 3,000 dead. "We must enforce the rules against visa fraud, illegal overstay, illegal entry and other immigration violations and crimes. And crimes they are — believe me, crimes they are."
Trump continued that terrorists, drug dealers, human traffickers, gang members and others have "exploited" weak United States immigration laws to "threaten" the safety of American citizens, and launched another attack on Democrats, once again falsely claiming they want "open borders and more crime."
"That's what you're gonna get," Trump said in the video he tweeted Saturday. "You'll get more crime as you open up those borders."
Trump has made a hardline crackdown on immigration central to his presidency, even as he continues to come under increasing scrutiny over his "zero tolerance" policy on the U.S. border that has resulted in the separation of migrant families.
In the midst of the border crisis, a growing number of Democrats in recent weeks have joined calls to abolish ICE, which was established in 2003 to "better protect national security and strengthen public safety in response to the deadly attacks perpetrated on 9/11," according to the agency.
Long controversial, ICE has come under especially intense criticism during the Trump administration for its "actions of hunting down and tearing apart families."
"The heartless actions of this abused agency do not represent the values of our nation, and the U.S. must develop a more humane immigration system, one that treats every person with dignity and respect," Rep. Mark Pocan (D-Wisc.) said in a June statement announcing his bill to abolish ICE. "From conducting raids at garden centers and meatpacking plants, to breaking up families at churches and schools, ICE is tearing apart families and ripping at the moral fabric of our nation."
But Trump has strongly defended the agency, and on Saturday praised its "courageous public servants."
"Without the brave heroes of ICE, we would have no enforcement, no laws, no borders, and therefore, we wouldn't even have a country," Trump claimed. "My administration has your back 100%."