This Week in Trump-Russia News: All eyes turn to Cohen as the president bashes former fixer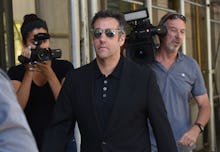 Michael Cohen once said he'd "take a bullet" for President Donald Trump — the man who'd employed him as a brash, brawling attorney and fixer for years.
But as the president has distanced himself from him in correlation with his mounting legal pressure, Cohen has appeared increasingly open to cooperating with investigators against his former boss.
Over the past week, Cohen has dominated the news cycle in stories that have brought both Trump's sex scandals and his possible knowledge of a key interaction between his campaign and Russia to the fore.
Here's what you need to know about the Cohen revelations this week — and how the Trump team is responding.
Cohen recording calls Trump credibility into question
When the Wall Street Journal first reported in November 2016 that the National Enquirer had suppressed the story of an ex-Playboy model who allegedly had an affair with Trump, his team denied he had any awareness of the matter.
"We have no knowledge of any of this," then-spokesperson Hope Hicks told the paper, whose report came out days before the 2016 election.
But according to a recording Cohen made of he and Trump discussing the matter, the then-candidate did, in fact, appear to be aware of the Enquirer's purchasing of Karen McDougal's story — and seemingly discussed a plan with his lawyer to buy the rights to her story through a shell company.
It's just the latest example of the Trump team's initial explanation of an event related to the Cohen and Russia probes turning out to be false.
When the New York Times first reported on the existence of the tape last week, Trump lawyer Rudy Giuliani claimed that the tape was "exculpatory," showed the president had no prior knowledge of the McDougal situation and demonstrated that he had instructed Cohen to pay for the Playboy model's story with check rather than cash so it would be easier to document.
But in the at-times muffled recording, Trump appears to instruct Cohen to "pay with cash," to which the lawyer says, "No, no."
Cohen says Trump approved Veselnitskaya meeting
The McDougal story isn't the only time Cohen contradicted the Trump narrative this week.
According to CNN, Cohen says that Trump had been aware of his eldest son's 2016 meeting with a Russian attorney who promised dirt on Hillary Clinton — and, indeed, gave it the go-ahead.
That shady rendezvous — in which Donald Trump Jr., Jared Kushner and Paul Manafort met with Natalia Veselnitskaya under the premise she had damaging information about the Democratic nominee — has been a key episode in Robert Mueller's investigation into possible collusion between the campaign and the Kremlin.
Additionally, the president's actions after the meeting was first reported on last summer have been scrutinized as part of Mueller's probe into potential obstruction of justice.
Trump had crafted a statement for his son that characterized the meeting as having been about the "adoption of Russian children," but it was quickly revealed to have actually been accepted by Trump Jr. on the belief that the Kremlin-connected lawyer had dirt on his father's opponent.
According to Veselnitskaya, Trump Jr. suggested during the meeting that his father could eliminate the Magnitsky Act sanctions that have been a thorn in the side of Vladimir Putin's government in exchange for the damaging information.
Cohen is willing to tell Mueller that he was one of several present when Trump was informed of and approved the meeting, according to CNN.
Giuliani, Trump hit back against Cohen
Trump and Giuliani have gone on the attack following the week of Cohen news.
Trump has denied having known about Don Jr.'s shady meeting and suggested Cohen is lying to get out of "unrelated" legal trouble.
"Sounds to me like someone is trying to make up stories in order to get himself out of an unrelated jam," Trump tweeted early Friday.
Giuliani, too, has called Cohen's credibility into question, telling CNN on Friday that Trump's former attorney is a liar.
"He's been lying all week," Giuliani said. "He's been lying for years."
That characterization ran counter to his previous comments about Cohen, in which the former New York City mayor described him as "an honest, honorable lawyer."
Giuliani's flip-flopping on Cohen, according to former Trump lawyer Jay Goldberg, has damaged the president's case "immeasurably."
Pompeo hits Russia over Crimea
While Trump has been criticized for cozying up to Russia, some members of his administration have continued to adopt a tough public stance against the country.
Secretary of State Mike Pompeo issued a declaration Wednesday criticizing the Kremlin for its annexation of Crimea, emphasizing that the U.S. will not recognize the region as Russian and calling on the country to "end its occupation" of the territory.
"As democratic states seek to build a free, just and prosperous world, we must uphold our commitment to the international principle of sovereign equality and respect the territorial integrity of other states," Pompeo said in a statement Wednesday afternoon. "Through its actions, Russia has acted in a manner unworthy of a great nation and has chosen to isolate itself from the international community."
That jab against Russia came just ahead of an at-times tense appearance before the Senate Foreign Relations Committee, during which lawmakers questioned him over what transpired during a controversial one-on-one meeting between Trump and Putin in Helsinki last week.
He declined to provide details about the summit, but said nothing untoward happened and defended the president's performance.
Trump received an outpouring of bipartisan outrage over his meeting with Putin, during which he appeared to side with the Russian strongman over his own intelligence agencies and suggested he'd be open to turning over individuals who had championed the Magnitsky Act to the Kremlin.
Trump allies go after Rosenstein
Meanwhile, Trump's Republican allies intensified their efforts to undercut Rod Rosenstein, introducing a resolution Wednesday to impeach the deputy attorney general who has overseen the Russia investigation since early 2017.
"The DOJ has continued to hide information from Congress and repeatedly obstructed oversight — even defying multiple Congressional subpoenas," Rep. Mark Meadows (R-N.C.), who introduced the articles of impeachment, tweeted Wednesday evening. "We have had enough."
Rosenstein's job security has long been a matter of public speculation, with Trump leveling frequent attacks on the deputy attorney general in what has been widely regarded as an attempt to kneecap Mueller.
The impeachment is unlikely, but it underscores the lengths to which Trump's allies — including Rep. Jim Jordan (R-Ohio), who this week threw his hat in the ring to replace Paul Ryan as House Speaker — are willing to go in their efforts to undercut the Russia probe.
Trump to delay Putin visit, may go to Moscow
The administration this week announced that Putin will not visit Washington until 2019, even though Trump last week had invited the Russian president to visit this fall.
While national security adviser John Bolton claimed the reason for the delay was so the two could meet "after the Russia witch hunt is over," the decision came after Republican backlash to a meeting that would come so close to the midterm elections.
It's not clear exactly when the meeting in Washington is now expected to occur, but Putin has now extended an invitation for Trump to visit Moscow — something the president is apparently open to.
"President Trump looks forward to having President Putin to Washington after the first of the year," White House press secretary Sarah Huckabee Sanders said in a statement, "and he is open to visiting Moscow upon receiving a formal invitation."