Coming up this week in politics: Paul Manafort trial begins as Trump rallies in swing states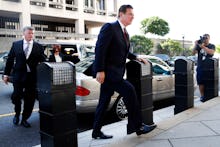 August will arrive with a bang, as the political world gears up for a week filled with primary elections, congressional hearings and a high-profile trial.
Former Trump campaign manager Paul Manafort's trial will begin this week after an initial delay, which is set to keep Robert Mueller's probe into the Trump campaign's potential Russian ties in the spotlight. The president will have a chance to appeal to his supporters, however, as Trump makes his way to Pennsylvania and Florida for rallies in support of Republican candidates.
Here's what to expect from the week ahead.
Paul Manafort: Manafort's trial will begin Tuesday in Alexandria, Virginia, as the former campaign manager faces charges of bank and tax fraud related to his business dealings with the Russian-backed Ukrainian government. The trial was initially slated to begin July 25, but a judge granted a delay to allow Manafort and his attorneys more time to review evidence.
Special counsel Robert Mueller is expected to use testimony from 35 witnesses and nearly 500 pieces of evidence in the trial, which could result in a 300-year prison sentence for Manafort if he's convicted. The trial will be the first of two for Manafort, with a second trial for money laundering and failing to register as a foreign agent set to begin in September.
Tuesday's trial will mark the first trial of Mueller's investigation, which has charged 32 people as of mid-July. The trial isn't likely to focus on Manafort's work with Trump or the campaign's potential collusion with Russia, however — though the case's presiding judge, U.S. District Court Judge T.S. Ellis III, speculated during a May pretrial hearing that Mueller could be prosecuting Manafort to get him "to sing" against Trump.
Trump's agenda: Trump will meet with Italian Prime Minister Giuseppe Conte Monday. Though the president's recent relations with European leaders have been strained, Trump is likely to have a warmer meeting with the Italian leader, whom Trump has praised as a "really great guy." Conte leads an anti-establishment government with anti-immigration policies, and the Italian leader agreed with Trump's suggestion to welcome Russia back into the G8 coalition.
The president will then travel to Tampa, Florida, Tuesday for a roundtable discussion on workplace development and a campaign rally in support of Florida gubernatorial candidate Ron DeSantis ahead of the state's Aug. 28 primary election. Trump will then make another swing state appearance Thursday; the president will head to Wilkes-Barre, Pennsylvania, for a roundtable with supporters and rally for current U.S. Rep. Lou Barletta's Senate campaign.
Congress: Though the House of Representatives is now off on its August recess, the Senate will still be in session this week with a busy schedule.
The Senate Intelligence Committee will hold an open hearing on how foreign governments influence elections through social media Wednesday, as senators grapple with how to handle Russian interference in U.S. elections in the wake of Trump's chummy meeting with Russian President Vladimir Putin. Other Senate hearings this week will include sessions on family reunification efforts, health care costs and the value of North Atlantic Treaty Association alliance, which Trump recently attacked during his trip to the NATO summit in Brussels.
Senators will also continue their consideration of Judge Brett Kavanaugh as the next potential U.S. Supreme Court Justice. CNN reported West Virginia Sen. Joe Manchin is set to meet with Kavanaugh this week, which would make him the first Democratic senator to meet with the Supreme Court nominee. Manchin is one of several potential swing votes in the Senate who could break with their party on Kavanaugh — and with just a simple majority of votes needed to confirm Kavanaugh, every vote counts.
Primary elections: Tennessee voters will head to the polls Thursday for their primary election ahead of the November midterms, which includes House, Senate and gubernatorial races.
The gubernatorial race currently has four Republican frontrunners: former state economic development commissioner Randy Boyd, U.S. Rep. Diane Black, state House Speaker Beth Harwell and businessman Bill Lee. Vice President Mike Pence has endorsed Black, describing her on Twitter as "a strong supporter of #MAGA agenda of tax cuts, military $$ & a champion of right to life policies." Democrats vying for the governorship include former Nashville Mayor Karl Dean and state House Minority Leader Craig Fitzhugh.
The Senate candidates will fight to fill the seat vacated by current Sen. Bob Corker, though the Associated Press notes that barring any major primary upsets, the race will likely be between Republican U.S. Rep. Marsha Blackburn and Democratic former Gov. Phil Bredesen. Republican candidates running for the House of Representatives include incumbent Rep. David Kustoff, whom Trump endorsed Friday as a "champion for the Trump agenda."
Primary elections in the U.S. Virgin Islands will also take place this week, as voters head to the polls Saturday to vote in the territory's gubernatorial and local congressional races.
3D printed guns: Nonprofit Defense Distributed is set to release blueprints for 3D printed firearms Wednesday, thanks to a legal settlement with the Trump administration that allowed the release of the previously blocked plans. Though gun control groups filed a lawsuit to stop the plans from being released, their legal challenge ultimately failed, as the judge ruled the groups did not have the legal standing to intervene in the case.
The Obama administration initially ordered the blueprints be taken down in 2013, which prompted a legal challenge by Defense Distributed owner Cody Wilson. The Trump administration reversed course in April, however, offering a settlement that would allow "any United States person…to access, discuss, use, reproduce or otherwise benefit" from the firearm designs.
The blueprints will enable gun users to create working firearms using a 3D printer, and thus obtain guns without undergoing a background check. The firearms will reportedly be able to go through a metal detector undetected and will not have a serial number that can be traced by the government.
In a letter to a federal judge, gun control nonprofits Everytown for Gun Safety, Brady Center to Prevent Gun Violence and the Giffords Law Center to Prevent Gun Violence described the Trump administration's settlement as "troubling," "dangerous" and "potentially illegal," and claimed the blueprints' release "threatens to undermine national security and the national defense of the United States."