Rudy Giuliani accuses Michael Cohen of tampering with Trump recording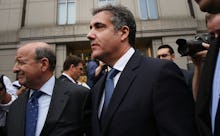 President Donald Trump's current and former legal counsel are sparring over Michael Cohen's recording of a September 2016 conversation with Trump on which the two discussed payments to former Playboy model Karen McDougal, who claimed to have an affair with Trump.
Rudy Giuliani, the public face of Trump's current legal team, has accused former Trump lawyer Cohen of tampering with the potentially damaging tape.
Giuliani's claim came after he initially described the recording as "powerful exculpatory evidence" favorable to the president.
"We have determined the fact that he tampered with the tape, in the sense that he abruptly, mid-conversation, turned it off," Giuliani said Saturday on Fox News.
Giuliani's comments echo a Wednesday tweet from Trump in which he asked: "Why was the tape so abruptly terminated (cut) while I was presumably saying positive things?"
In a statement to CNN anchor Jake Tapper, a source close to Cohen denied Giuliani's claim, saying, "You mean Rudy is floating reckless, fact-free, false, wild speculation as if he were unhinged? Obviously it's a lie. Shocking."
The recording, as released by CNN, cuts off after an exchange about the hush payment that's being debated on both sides. Giuliani has claimed Trump told Cohen, "Don't pay with cash," suggesting he wanted the payment to be properly documented. Cohen lawyer Lanny Davis has countered that Trump said the opposite — instructing Cohen to "pay with cash," to which the lawyer reportedly replied, "No, no, no."
Giuliani said Saturday on ABC News that Trump's team has hired experts to analyze the recording. According to CNN, federal prosecutors have received a total of 12 audio recordings seized by the FBI, including the McDougal conversation — which is reportedly the only tape in evidence that features Cohen and Trump.
"We've had it analyzed by several experts, not just for audio," Giuliani said. "But we've had it analyzed and there's no way to tell if he did it at the time or if he went back and edited out a portion, because it goes on to another subject and stops abruptly."
Giuliani also warned Cohen not to speak out about Trump, claiming Cohen is violating attorney-client privilege and is in "grave jeopardy" of being disbarred. In addition to releasing the McDougal tape, Cohen has also claimed Trump had advance notice of Donald Trump Jr.'s meeting with a Russian lawyer in 2016, a notion the president has previously denied.
"We've indicated to them that they should respect the client and attorney privilege in different ways," Giuliani said on ABC. "We have complained to them that he's violated the attorney-client privilege, publicly and privately."
In response, Davis said Giuliani "seems to be confused."
"He expressly waived attorney-client privilege last week and repeatedly and inaccurately — as proven by the tape — talked and talked about the recording, forfeiting all confidentiality," Davis said in a statement to ABC.