Trump threatens to shut down the government over border security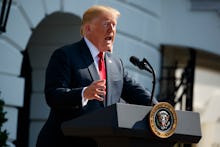 President Donald Trump continued to push his immigration policies at the federal government's expense Sunday, taking to Twitter to threaten a government shutdown over border security funding.
"I would be willing to 'shut down' government if the Democrats do not give us the votes for Border Security, which includes the Wall!" Trump tweeted Sunday morning. "Must get rid of Lottery, Catch & Release etc. and finally go to system of Immigration based on MERIT! We need great people coming into our Country!"
The tweet echoes Trump's previous comments on a potential government shutdown. The president in February said he would "love to see a shutdown" if the government did not address immigration. He made similar comments during remarks in April and May.
"They don't want the wall, but we're going to get the wall, even if we have to think about closing up the country for a while," Trump said during a tax reform roundtable in May, according to CNN. "We're going to get the wall. We have no choice. We have absolutely no choice. And we're going to get tremendous security in our country."
Congress passed a spending bill in March that would fund the government through September without fully acquiescing to the administration's immigration policies. After an initial veto threat, the president ultimately signed the bill, but said he would "never sign another bill like this again."
If the government shuts down in September, it would mark the third shutdown of Trump's presidency, following brief shutdowns in January and February.
At the heart of Trump's immigration agenda is his proposed "border wall," which he initially promised Mexico would pay for. A Department of Homeland Security report estimated the wall would cost $21.6 billion, not including maintenance, while a report issued by Senate Democrats put the cost at $70 billion to build and $150 million per year to maintain.
Trump's harsh immigration policy has also taken aim at the diversity visa lottery, family-sponsored immigration and so-called "catch and release," in which immigration officials release immigrants from physical custody while deportation proceedings are ongoing. The Trump administration previously issued a "zero tolerance" policy to prosecute all undocumented immigrants caught crossing the border, which resulted in the continuing family separation crisis.
Americans remain largely opposed to Trump's attacks on immigration. According to a Washington Post-Schar School poll released in July, 42% of respondents supported building a wall along the U.S.-Mexico border, while 55% opposed it; 61% opposed limiting family-sponsored immigration. Sixty-nine percent of respondents opposed the Trump administration's separation of immigrant families, compared to 29% who supported it.
A separate Pew Research poll conducted in June found that only 24% want legal immigration into the U.S. to decrease, while 32% want it to increase and 38% want it to stay at its present level.