Why Sichuan food simply doesn't taste the same in the US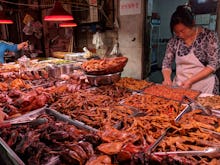 First, you crack the jaw. That gets you access to the cheek meat and the tongue. Then you can freestyle it — if you break it open at the right part, you can get to the brain, which has a creamy texture not unlike tofu.
Anita Lai, managing partner of Chengdu Food Tours, is walking our group through how to eat rabbit heads. The idea of eating any animal's head — much less a cuddly looking rabbit — might be off-putting to some, but rabbit heads are a delicacy in Chengdu, the capital of China's Sichuan province.
"It's the perfect drinking food," Lai said.
There isn't much meat in the head, so it's all about the sauce in which it's marinated — and at this particular stall, it's spicy and tangy, with a hint of that famous Sichuan peppercorn.
The Sichuan province is known primarily for its food, and as far as Chinese food goes, Sichuan cuisine is well-represented in the Western world. The New York Times awarded Shun Lee Dynasty, a fine-dining Chinese restaurant in New York City, four stars in 1967. And Sichuan Food in Amsterdam was the first Chinese restaurant in Europe to receive a Michelin star in 1993. If you've ever had a Sichuan dish — likely heavily flavored with Sichuan peppercorn — you're very aware of the cuisine's spicy and numbing qualities.
Why Sichuan food tastes different in America and China
The Sichuan peppercorn was banned from the United States for decades as part of a wider ban on citrus from China, which was thought to carry a bacterial disease that impacted trees. Yes, peppercorns are in the citrus family and not in the pepper family — which is why there's often a sour, citrus-y aftertaste if you eat them and then drink water afterward.
The ban on Sichuan peppercorn was eventually dropped in 2005, but for years, the U.S. Department of Agriculture still required all imported peppercorns to first be heated to kill any possible bacteria.
Things might be changing: The latest edition of the USDA guidelines specifies that dried Sichuan peppercorns no longer need to be heat treated. But in a story for Slate, reporter Taylor Holliday found that producers might not be aware of this change, and are still heating peppercorns before exporting them to the U.S.
The heat treatment is widely considered to impact the taste of peppercorns eaten in the U.S. However, in a blind taste test, Holliday and members of the Chengdu Food Tours team were not convinced that heat is the reason for the change in taste — but agree that peppercorns in the U.S. have long been inferior to those in China.
I traveled to Chengdu in April on a trip hosted by the Temple House and Hainan Airlines to learn more about the history behind one of the world's most famous cuisines — and to understand what Americans have been missing all along, despite the prevalence of Sichuan food in the U.S.
An introduction to Sichuan food
Chengdu is a food-obsessed city, so much so that UNESCO named it a city of gastronomy in 2010 due to its culinary history. "Can you eat spicy food?" is a common way to start a conversation with a visitor.
The two main ingredients in Sichuan cuisine are the Sichuan peppercorn and the fiery red chili pepper, the latter of which the Portuguese introduced to China in the 17th century. Ginger and garlic are other flavors commonly found in Sichuan food.
"In Sichuan cuisine, the traditional dishes use very few ingredients," Temple House executive chef Tony Xu said. "It's very different from Chinese food in other cities. If you see the peppercorn, you know it's Sichuan food."
Some of the most popular Sichuan dishes brought to the U.S. include mapo tofu — soft, silken tofu often mixed with pork, fermented black beans and whole toasted peppercorns. Dan dan noodles — typically wheat or egg noodles — in a spicy sesame sauce is another dish frequently found in Chinese restaurants in America.
Hot pot is perhaps the most famous food to come out of the Sichuan region. The dish is eaten year-round, despite its base being a boiling broth; many people told me the heat helps diners sweat out the region's humidity in the summer. The broth is fire-engine red with slicks of oil and the meal itself is an activity: Diners cook their own meat and vegetables in the broth and dip it in sesame oil afterward to temper the fiery chili flavor. Meals can last hours — the broth is replenished often — and hot pot is typically the go-to choice for celebrations, birthdays and large groups.
"Chinese culture is about eating together," Xu said.
The world of Sichuan street food
My true education in Sichuan food and its varying levels of spice came from my walking tour with Chengdu Food Tours, which typically includes stops at several street food vendors, a visit to a wet market and a family-style dinner. The tours are small, with a maximum of eight people, and can be customized — the company has arranged tours for vegetarians, no easy feat in a city where meat is in just about every dish.
"Food is the best vehicle to understand the people and the culture," Lai, who was leading my tour, said. I was introduced to guo kui, a street food sandwich filled with marinated meat or offal. I learned about sweet water noodles, or tian shui mian, served with soy sauce, chili oil, spices and peppercorn. I also had my first chuan chuan — skewered meats, organs and vegetables marinated in hot pot broth. The street food was invented for those who wanted the comforting flavors of hot pot with on-the-go convenience.
The Sichuan heat is "different from a Mexican heat or a Thai heat," Lai said. "It's more complex."
Sichuan food is often called "ma la" in Chinese — ma meaning numbing and la meaning spicy.
Lai recommended Chinese beer as the best beverage to help temper the spiciness of Sichuan food.
"It's light and calms down the spice — and it doesn't get you too drunk," she said. "Peanut milk and herbal tea go well with spicy food, too."
Lai and her guides have established relationships with local vendors. We sampled Sichuan pickles, freshly made spring rolls, baijiu (a Chinese liquor) and more at the wet market. Sichuan food might look intimidating to an outsider — it's spicy, it's oily and the overpowering taste of the sauce can sometimes make it it difficult to tell what you're eating. But Chengdu Food Tours breaks it all down easily, so four hours later, you have a basic understanding of Sichuan food's history and get to try traditional snacks not found anywhere else in the world.
Plus, you'll know how to eat rabbit heads like a local.
Pushing the boundaries of Sichuan food
Eating my way through the streets of Chengdu was an ideal foundation for understanding the city's food traditions. But to figure out where the future of Sichuan food might be headed, I looked to the modernist Temple House, which opened in 2015 and remains one of the city's buzziest hotels.
The hotel's restaurant, Mi Xun, is inspired by local teahouses and serves only vegetarian fare. Chef Xu runs the kitchen and translates Sichuan techniques and flavors into a more delicate flavor profile. Here, the hot pot bases (including a non-spicy one made with black truffle and pu'er tea) tasted light and less oily, and were served with an array of fresh produce — bamboo shoots, green okra, mushrooms, Chinese yams — instead of sliced meats.
Xu said he often tests new dishes by serving them to guests, friends and restaurant staff.
"We go to the service team — not the front kitchen, because they know the recipes," Xu said. "We go to the young waiters and say, 'Try the mapo tofu.' When they say, 'It's good,' I know the flavors are right."
Xu's mapo tofu is braised in a wild mushroom sauce and served with steamed rice flavored with black truffle. It's far from traditional, since it's missing the meaty flavor of pork.
"It's very hard to find a vegetarian version in Chengdu," Xu added. But it's incredibly aromatic, warm and filling and meatless — a growing demand among international visitors and Chinese locals. Xu's cooking feels like the natural next step in the evolution of Sichuan food.
After my day touring Chengdu and eating all the local snacks, I felt like I could take on anything. My mouth had been through all levels of spicy, and I'd challenged my palette and stomach with foods I'd never eaten before — like that aforementioned rabbit head.
I ordered the signature negroni at the Jing bar in the Temple House that night. (Every hotel in the House Collective, to which which the Temple House belongs, has its own negroni.) Head bartender Frank He had shown off his Sichuan negroni to us earlier — Sichuan peppercorn-infused gin, vermouth and Sichuan peppercorn-infused Campari — but I'd only had a small sample and I was ready for a full drink. The cocktail started off slightly bitter and floral, with the peppercorn's light citrus notes. The heat began to come through, slowly but surely. Like the best of cocktails, the flavors built as I continued to drink, and before I knew it, my lips were beginning to feel numb.
The tingling sensation stayed with me as I headed back up to my room. I went to bed thinking about the incredible versatility of Sichuan's star ingredient. I'd had the peppercorn in street food, in savory dishes and in a cocktail. Then I thought about how I would never, quite literally, be able to replicate this flavor back home in the states — which meant I'd need to plan another trip back to the region to experience this spicy, fiery, tingling, numbing joy once again.
Correction: Aug. 6, 2018