Hype Daily: The Les Moonves allegations, Kenya Barris leaves ABC and more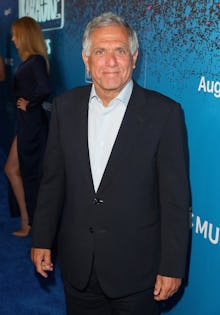 Welcome to Hype Daily, Mic's morning entertainment roundup. Here's everything you need to catch up on in the entertainment world and what to look forward to today. Want to receive this as a daily email in your inbox? Subscribe here.
Good morning from Hype reporter Anna Swartz.
Here's the latest on the sexual misconduct allegations against CBS CEO Les Moonves
On Friday evening, the New Yorker published a new report from Ronan Farrow, detailing allegations of harassment and sexual misconduct against CBS CEO Les Moonves, described in the report as "one of the most powerful media executives in America." In the article, six women alleged that Moonves had acted inappropriately with them, including demanding sexual acts and then retaliating against them if they turned him down. One woman described a 1997 incident in which she said Moonves held her down while "violently kissing" her.
In a statement to the New Yorker, Moonves said, "I recognize that there were times decades ago when I may have made some women uncomfortable by making advances. Those were mistakes, and I regret them immensely. But I always understood and respected — and abided by the principle — that 'no' means 'no,' and I have never misused my position to harm or hinder anyone's career." His wife, CBS host Julie Chen, posted a statement on Twitter in support of her husband.
The New York Times reported on Sunday that, behind the scenes at CBS, the network's board spent "most of the weekend" debating how to move forward with an investigation against Moonves and discussing whether or not Moonves should continue his role during the inquiry.
Kenya Barris is leaving ABC
Ouch, this has got to hurt for ABC: First the network lost powerhouse creator Shonda Rhimes to Netflix, now Black-ish creator Kenya Barris is leaving ABC, reportedly ahead of schedule. Variety reported on Friday that Barris will leave the network in August — but that his current deal with ABC wasn't supposed to expire until 2021.
The news is hardly a surprise considering the reports of tension between Barris and ABC. Back in March, the network pulled an episode of Black-ish that reportedly dealt with football players' kneeling protests against police brutality. But will Barris make the move to Netflix? There are murmurs that he's considering a deal with the streaming giant, but nothing's official yet.
Octavia Spencer will star in a Netflix series about Madame C.J. Walker
This sounds amazing — according to Deadline, Netflix announced over the weekend that it's picked up an eight-episode miniseries about the life of Madame C.J. Walker. Walker, aka Sarah Breedlove, was a turn-of-the-century entrepreneur and activist who became a self-made millionaire creating and selling hair-care products for other black women. Octavia Spencer will play Walker and executive produce along with LeBron James. LeBron James!
Netflix says it would make another season of Master of None with Aziz Ansari
Speaking of Netflix, the streaming service is sticking with star Aziz Ansari. According to the Associated Press, Netflix exec Cindy Holland said on Sunday that the company would "certainly be happy" to make a third season of Master of None with Ansari. Back in January, the website Babe.net published an anonymous account from a woman who described a date with Ansari as the worst night of her life, alleging that the actor acted inappropriately, repeatedly pressuring her for sex and ignoring her discomfort.
Netflix didn't confirm that a third season of Master of None is definitely happening — just that it's still on the table.
Put this on your radar: Maniac
I'm sorry, but here's just one more piece of Netflix news: Emma Stone and Jonah Hill will star in a new limited series, out on Netflix Sept. 21, about two strangers who enter a pharmaceutical trial for a new miracle drug. Each hopes the new drug will solve all their problems — and probably, they're wrong. Check out the surreal teaser trailer here.