Today in Trump's America: Less than 100 days until the midterms, Democrats are positioned for gains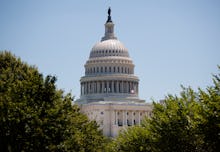 Welcome to Mic's daily read on Donald Trump's America. Want to receive this as a daily email in your inbox? Subscribe here.
Good morning from Emily Singer at Mic.
Check out Mic Dispatch, Mic's new show reporting on the problem-solvers and the provocateurs in our changing world. Subscribe here for alerts on new episodes airing Tuesdays and Thursdays, 8 p.m. Eastern, on Facebook Watch.
Here's what's happening in Trump's America:
• Trump's day doesn't begin until 11:15 a.m. Eastern, when he receives his daily intelligence briefing. Brace for tweets.
About the weekend: Trump misleads on economic news
The Trump administration took a victory lap over the weekend on a report that the U.S. economy grew at a 4.1% rate in the second quarter of 2018, saying it's a sign that his administration's policies are a boon to the economy.
"We've accomplished an economic turnaround of historic proportions," Trump declared on Friday.
However, while the 4.1% second-quarter economic growth rate is strong, it is by no means historic.
Former President Barack Obama saw four quarters of economic growth that surpassed the 4.1% rate, including twice in 2014, according to CBS News.
Economists speculate the second quarter numbers are actually a result of Trump's trade war, with companies stockpiling foreign goods before tariffs go into effect and raise costs, CBS News reported.
Today in Trump's America: SCOTUS nominee Kavanaugh to meet with key Democratic senator
Supreme Court nominee Brett Kavanaugh is set to meet with Sen. Joe Manchin (D-W.Va.) Monday, a critical vote that could determine whether the judge is confirmed.
Manchin is running for re-election in a state Trump carried by a more than 41-point margin, which puts pressure on him to confirm Trump's pick for the high court. Manchin was one of three Democrats to vote for Trump's first Supreme Court pick, Justice Neil Gorsuch, meaning he is open to confirming a Trump pick.
If Manchin chooses to vote for Kavanaugh, Republicans could afford to lose one of their wavering members on the vote, such as GOP Sen. Rand Paul of Kentucky, who says he is "undecided" about whether he'll vote for Kavanaugh. If all Democratic senators voted against Kavanaugh, one GOP no vote would sink the nomination.
In the meantime, more news trickling out about Kavanaugh's record is raising eyebrows. Over the weekend, the New York Times reported Kavanaugh handled signing statements that former President George W. Bush made to ignore laws passed by Congress — raising concerns from Democrats that Kavanaugh would be too lenient on executive powers.
Democrats are demanding to receive a tranche of records from Kavanaugh's time as staff secretary in the Bush administration, but Republicans want to proceed with the nomination without them, according to the New York Times.
Capitol Hill happenings: Less than 100 days until midterms, Democrats are in a strong position for gains
Just 99 days remain until the 2018 midterm elections, and all signs point to Democrat gains in the House, gubernatorial mansions and state legislatures across the country.
Trump's job approval remains mired in the low 40% range. RealClearPolitics has Trump at an average approval rating of 43.3%, while FiveThirtyEight shows the president with a 41.2% rating.
At the same point in 2010, when Republicans rode a massive wave to retake the House, Obama had a 46% approval rating, according to RealClearPolitics.
Not only is Trump's approval rating low, but Democrats have a wide lead in the generic congressional ballot, which asks voters which party they want to see in control of Congress. RealClearPolitics shows Democrats with a 7.3-point lead on the generic congressional ballot, while FiveThirtyEight has Democrats with a 7.2-point lead.
Other data points also suggest Democrats have a good shot at netting the 23 seats necessary to take control of the House.
They include an Aug. 7 special election in Ohio's 12th District — which is vacant, thanks to GOP Rep. Pat Tiberi's resignation earlier this year. Trump carried Columbus-based 12th District by an 11-point margin in 2016, making it a strong Republican seat.
Yet the Democratic nominee for the seat, Danny O'Connor, has been climbing in the polls as the race enters its final days. The race has tightened so much that Vice President Mike Pence is campaigning for the GOP nominee, Troy Balderson, Monday to try to boost the Republican to victory.
If a seat like Ohio's 12th is this competitive, Republicans may be in trouble in November.
And the rest…
Trump rails against Mueller: Trump went on a rabid tweetstorm from his New Jersey golf course over the weekend, railing against special counsel Robert Mueller's investigation, calling it an "illegal scam" and raising questions, yet again, about whether he will fire Mueller. Trump's rage comes as his former personal lawyer Michael Cohen has made clear he is willing to cooperate with Mueller's team, and days before the trial of his former campaign chairman Paul Manafort is slated to start.
New VA secretary to purge staff: After he's sworn in Monday, new Veterans Affairs Secretary Robert Wilkie plans to go on a staff purge of Trump loyalists who have helped create a negative culture that's led to turmoil within the massive department, the Washington Post reported.
Rep. John Lewis to be released from the hospital: Legendary Georgia Democratic congressman John Lewis, a major figure in the Civil Rights movement, was hospitalized over the weekend after he became ill on a plane, according to the local Georgia television station WSB-TV. Lewis' office announced he was released from the hospital Sunday night after doctors ran tests and declared him to have a "clean bill of health," a Lewis spokeswoman told Politico.