Paul Manafort's first trial begins this week: Here's what to expect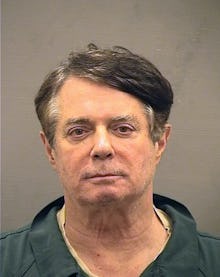 Former Trump campaign chairman Paul Manafort begins his first of two trials on Tuesday. Prosecutors from special counsel Robert Mueller's team will tell a jury in Alexandria, Virginia, that Manafort illegally laundered more than $30 million in money earned as a political consultant for pro-Russian officials in Ukraine, and hid that money from the IRS.
The trial is a major test for Mueller's team, which is facing a fresh onslaught of attacks from President Donald Trump and Republicans, who are using lies and exaggerations to blast Mueller and his investigators as biased against the president. Failure to obtain a conviction for Manafort would give Trump and his allies more ammunition in their continued attacks on the probe.
Yet the trial also contains pitfalls for Trump.
While it is unlikely to get into any allegations about possible Trump ties to Russia, the trial is certainly bad optics for the president. Having his former campaign chairman, who helped run Trump's campaign at a critical point of the election, in the news so consistently shines a negative light on him.
Trump himself will also come up at least once in the trial, as prosecutors will argue that a bank chairman allowed Manafort to file false loan information in order to get a job in the Trump administration.
Just as an acquittal would be bad for Mueller, a Manafort conviction would give Mueller's team juice to keep their investigation going. And there's always the possibility that Manafort could take a plea deal during the trial if his defense falls apart, opting for a lighter sentence in exchange of telling Mueller's team anything he may know about possible collusion between the Trump campaign and Russia.
The trial is expected to drag on for at least three weeks, with jury selection for the case beginning on Tuesday. Manafort faces 32 counts of filing false tax returns and bank fraud stemming from his work for former Ukrainian President Viktor Yanukovych, a pro-Russian leader.
Following this trial, Manafort will face a second trial in Washington in September with more explosive charges, including conspiracy against the United States, failure to register as a foreign agent, money laundering, lying to federal investigators and obstruction of justice.